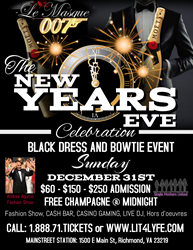 RING IN THE NEW YEAR WITH A BANG
RICHMOND, Va. (PRWEB) December 20, 2017
The LE'MASQUE 007 NYE 2018 Experience will captivate its New Year's Eve attendees at every step. Basking in the opportunity to be the envy and talk of their friends on all social media, even those who live in iconic cities like L.A., NYC, and London. Attendees will indulge in its fanciful fanfare, after a long year of dedication to both career, and family. Now is the time for partygoers to enter into a luxurious lifestyle, and a well deserved night to remember.
This one-of-a-kind of New Year's Celebration will be held at "The Main Street Station and Train-shed", Richmond Virginia's most visible Historic Landmarks.
Visit: http://www.lit4lyfe.com for more details.
The Richmond Times-Dispatch says, "The train shed behind Main Street Station is being pitched as a grand new event space unlike any other along the Interstate 95 corridor." Simply put "It's the grandest roof on Interstate 95". This LE'MASQUE 007 NYE event will be the most luxurious New Year's Party of 2018. Over 40,000 square feet of entertainment space, live DJ to play the TOP 40 hits, and hits from the past and present. Access will be granted to multiple bars, Casino games, and delicious food. Creating one truly unique 007 Bond themed party to ring in the New Year. There will also be an advanced technology enabled photo booth capturing the delight on the faces of partygoers throughout the evening.
V.I.P. Guests will indulge themselves with a delectable array of Heavy Hors d'oeuvres prepared by one of Richmond's most renowned, Master Chef Wayne of A&W Catering.
Also included are the lights and sound of shows with performances by some of the area's best aerialist "Host of Sparrows." A futuristic Couture Fashion Show hosted by celebrated fashion designer, Andres Aquino.
Imagine embarking on the 2018 New Year by showcasing your best evening attire, where you and friends savor the taste of signature cocktails while basking in the beautifully curated decor of the venue.
It all comes to an epic crescendo, with dancing and toasting the night away, while mingling with hundreds of top influencers and socialites, participating in the LARGEST champagne toast on the East Coast! Don't miss out on an opportunity to make a lasting impression for 2017 while creating memories with old and new friends alike. LE'MASQUE 007 NYE 2018 is sure to be a legendary night filled with masquerade treasure hunts, premium bars, an exquisite V.I.P. Suite/Lounge hosted by Dana Kay Salon, exciting door prizes, Bond Girl Hostesses, exhilarating music and pure luxury while benefiting a great cause the Single Mothers United Foundation.
LE'MASQUE 007 NYE 2018 is a great way to celebrate the New Year while having a wonderful time in a safe and highly secure environment.
Ring in the NEW YEAR with a big bang!
Visit: http://www.lit4lyfe.com for more details.