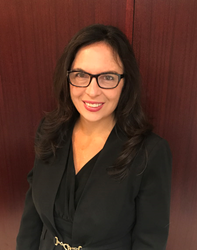 I am deeply honored by this recognition and look forward to continuing to serve families and to improve outcomes for vulnerable youth with disabilities."
WHITE PLAINS, N.Y. (PRWEB) January 08, 2018
Littman Krooks LLP is pleased to announce that Marion M. Walsh has been named a partner at the firm. "It is with deep appreciation for her contributions that the firm welcomes her as a partner," says Bernard A. Krooks, managing partner. "Under Marion's leadership, our Special Education practice continues to grow and now includes four attorneys and two advocates. Our team is dedicated to ensuring that children with disabilities receive an appropriate education."
Marion leads the special education team of the firm and has worked in education law for almost 20 years. She has been an advocate for children in many capacities. Few attorneys bring the depth and breadth of her experience to this practice. "I am deeply honored and humbled by this recognition and look forward to continuing to serve families and to improve outcomes for vulnerable youth with disabilities."
She prioritizes a collaborative approach with school districts. Yet, if school districts do not compromise, she will work tenaciously through litigation to achieve the client's aims– whether increased services in public school or tuition reimbursement for a needed private placement. She has enjoyed success in impartial hearings, state review proceedings and federal appeals. To Marion, the law represents a tool for social justice and change and she prides herself on taking on difficult cases to protect vulnerable youth.
Marion also serves as an impartial hearing officer for children with disabilities and is certified by the New York State Education Department. She frequently presents on special education and general education law. Marion is certified in Youth Mental Health First Aid. She received the "Advocate of the Year" Award from Westchester Jewish Community Services in June 2014. In 2017, she completed training as an Ending the Silence Presenter with the National Alliance of Mental Illness (NAMI) and has volunteered to present to students and parents.
Click here to learn more about Marion.
About Littman Krooks
Littman Krooks LLP provides sophisticated legal advice and the high level of expertise ordinarily associated with large law firms along with the personal attention and responsiveness of smaller firms. These ingredients, which are the cornerstone of effective representation and are necessary to a successful lawyer/client relationship, have become the foundation of the firm's success.
Littman Krooks LLP offers legal services in several areas of law, including elder law, estate planning, special needs planning, special education advocacy and corporate and securities. Their offices are located at 655 Third Avenue, New York, New York and 399 Knollwood Road, White Plains, New York. Visit the firm's website at http://www.littmankrooks.com