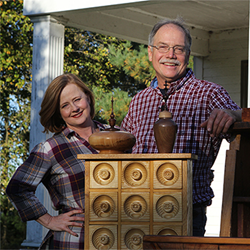 Woodcraft congratulates Scott and Suzy Phillips as they celebrate the silver anniversary of 'The American Woodshop.'
PARKERSBURG, W. Va. (PRWEB) December 19, 2017
Co-hosts Scott and Suzy Phillips will begin Season 25 of "The American Woodshop" on Wednesday, January 17, 2018, with 13 new episodes that invite viewers to build custom work in beautiful wood and that offer how-to instruction, including tool tune-up tips. Check your local PBS station for airtimes.
"The American Woodshop" is produced by WBGU TV, Bowling Green, Ohio, and sponsored by Woodcraft Supply, Rikon Power Tools, PS Wood Machines, FurnitureBank of Central Ohio and "Woodcraft Magazine."
"Woodcraft congratulates Scott and Suzy Phillips as they celebrate the silver anniversary of 'The American Woodshop,'" Woodcraft president Jody Garrett said. "Their show continues to encourage quality woodworking by offering PBS viewers helpful instruction in building unique projects."
Scott started woodworking in his father's shop in 1966, so for more than 50 years he has been working with wood in every imaginable way. During that time he has learned that "the best source of new ideas is through sharing ideas." As he enters the silver anniversary year of "The American Woodshop," Scott reflected on how connected woodworking has become worldwide and how that fosters the exchange of ideas.
"I am using woodworking tools made in 27 different countries, and I'm in communication with people all over the world every day," Scott said. 'It's staggering to know that woodworking has such a universal base, but we all use and take care of wood in much the same way, and that makes all woodworkers connected. In this modern 'wired' world, social media posts connect us daily to thousands everywhere, sharing ideas as never before. This is an amazing age to be a woodworker!"
Season 25 Projects
In the first Season 25 episode, viewers will watch the construction of a Harvest Table that features wide 1"-thick walnut planks and 4" post legs. All air-dried, the wood has a stunning color contrast – the light-wood/dark-wood combination of sapwood and heartwood. The notched leg post assembly was inspired by the designs used at the Chinese Imperial Palace to hold the roof of centuries-old buildings. Aprons are notched to create a puzzle-lock in the post.
The Apothecary Nine-Drawer Wall Keep in episode two features a hypnotic Southern Yellow Pine grain pattern that was created using a bandsaw and wood lathe. Its drawers can store many things, from spices to bits and cutters in the woodshop.
In episode seven, professional woodworker Chad Stanton, host of "I Can Do That" and "Wood Choppin' Time" on the Web, joins Scott to make stools. For the tenth episode, Jay Kinsinger, master woodworker and professor at Cedarville University in Cedarville, Ohio, works with engineering students to create "The Walnut Bike."
Other Season 25 projects include:

"Gentleman's" Organizer and Gallery – Guys like stuff and need help getting organized, and these two graceful solutions fill the bill (2503).
Turned Urns & Pepper Mills – Beautiful turnings add a warm charm to any space (2504).
Scrolled Kitchen Trenchers and Trivets – Food-safe woodworking tips cover everything, from the right wood selection to glues and finishes. Useful and kitchen wise (2505).
Decorative Turnings – Spindle and bowl art show new ways to turn (2506).
Arts and Crafts Luminaries – Artful scrollwork with oak accents (2508).
Making Custom Knives – Talk about custom cutlery – the handles are highly figured woods (2509).
Custom Wood Keeps – This lidded wood box is just right in any room and perfect for quilts (2511).
Curvy Wall Shelf – Easy to make display shelves that fit into tight spots (2512).
Arts and Crafts End Table – The ultimate in simple grace (2513).
For more information about "The American Woodshop," visit http://www.wbgu.org/americanwoodshop/index.html and http://www.facebook.com/The-American-Woodshop-1461759564084237/timeline/.
To learn more about Woodcraft, please contact the store nearest you, visit http://www.woodcraft.com or call (800) 535-4482. To learn about Woodcraft franchise opportunities, visit http://www.woodcraftfranchise.com or email woodcraftfranchise(at)woodcraft(dot)com.