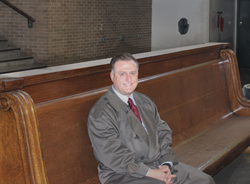 "This is one of the best public/private partnerships designed as a transit-oriented development that I have seen in years." - Garrison
(PRWEB) December 20, 2017
Downtown Memphis has shown tremendous growth in the past few years, and the $55 million-dollar project that is currently under construction for Central Station is promising even more enhancement to the area.
Central Station Project – Downtown Memphis, TN
So far, this Transit Oriented Development (TOD) project will include a new multimodal transit station connecting trolley, bus, paratransit, Uber, Lyft, taxi, bicycles, Amtrak and driverless vehicles. The 17 acre development will also have a new multiscreen Malco Cinema, three new apartment complexes, renovation of the AMTRK offices, renovation of Central Station, a new boutique hotel with a restaurant, redesign of the existing successful Farmers Market, a large pedestrian concourse connecting Main Street and Front Street and a pedestrian gateway from G E Patterson to the Farmers Market.
The project area was originally deemed underused but a challenge to work with, making the plans to enhance the space an exciting announcement for locals and visitors alike. The goal was to create a multi-use space in the heart of downtown Memphis that would be easily accessible with the new Memphis Area Transit Authority (MATA) updates being proposed as well. Connections between the businesses could create a more solid foundation for the success of the area, offering consumers more access to fresh foods and local business options to choose from.
Ron Garrison Looks At Equitable Transit Opportunity in New Design
Ron Garrison, former MATA CEO, has said "This is one of the best public/private partnerships designed as a transit-oriented development that I have seen in years." Garrison was extremely involved in the initial revamp of the Memphis Area Transit Authority, highly improving funding and performance numbers and erasing millions of dollars in MATA debt.
Funding is majorly accumulated, as $52 million has been accounted for through private investments and contributions. Around $3 million in grants have been given for this project, and a remaining $600,000 will be locally contributed. Henry Turley Co. originally proposed this project wanting to give more opportunity to the potential of the land. "It's the stuff that people continue to ask for, the stuff that people have to drive for", Turley said.