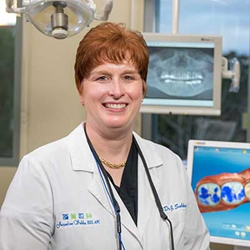 THOUSAND OAKS, Calif. (PRWEB) December 21, 2017
Dr. Jaqueline Subka has recently completed a gingival grafting continuing education (CE) course on the latest treatments for gum recession. The course, "Grafts: Thinking Outside the Palate" is held by the Oral Reconstruction Foundation, and taught participants ways to perform gingival grafts without removing tissue from the palate, or roof of the mouth. Dr. Subka performs gingival grafts, or gum grafts, and other gum recession procedures to treat patients suffering from loose teeth, sensitive teeth and receding gums in Thousand Oaks, CA.
During a traditional gum graft procedure, the graft material can be surgically taken from the palate. By taking the graft from the roof of the mouth, an extra surgery is involved and is typically uncomfortable for the patient. This continuing education course taught the benefits to using a tissue graft from a donor source to repair damage caused by gum recession using less invasive techniques.
Dr. Subka offers a variety of modern and effective treatment options for receding gums in Thousand Oaks, CA, including gum grafting procedures and the minimally invasive Pinhole® Surgical Technique. Gum recession can occur for a variety of reasons, including genetics or age, oral trauma, and periodontal disease. Patients experiencing signs of gum recession are encouraged to seek treatment right away. Common symptoms of gum recession include:

Loose or shifting teeth
Sensitive teeth to hot and cold beverages
Elongated looking teeth
Spaces forming between teeth
Bad breath (halitosis)
The Oral Reconstruction Foundation is dedicated to improving progress in implant dentistry and related areas, such as gum grafting and gum recession techniques. By providing continuing education courses to dental providers, more scientific knowledge is able to be passed along to the benefit of the patients.
Dr. Subka frequently takes continuing education courses to ensure her practice offers the latest treatments for modern, minimally invasive care. She says, "I pride myself on being able to deliver high-tech dental care with a personal touch to my patients. Whatever I can do to make your visit more comfortable and to give you a brighter, healthier smile, I'll strive to make it happen."
Those interested in learning more about Dr. Subka and her practice, or those suffering from receding gums in Thousand Oaks, CA, are encouraged to call the practice at 805-373-1919 or visit http://www.subkadds.com.
About the Doctor
Dr. Jacqueline Subka is general dentist offering personalized dental care for patients in Thousand Oaks, CA since 1999. Dr. Subka received her dental degree from the prestigious University of Southern California School of Dentistry in Los Angeles. Dr. Subka practices gentle dentistry and incorporates state-of-the-art techniques to provide leading, minimally invasive care. She and her team are committed to continuing education and strive to provide high-quality, personalized dental care to each patient. To learn more about Dr. Subka and the dental services she provides, visit her website at http://www.subkadds.com or call 805-373-1919.