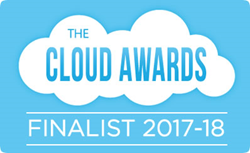 This is the second consecutive year we have been nominated for Best ERP Solution and to also be shortlisted for "Best in Mobile" Cloud Solution for our new RootScan Mobile App speaks to the true value we bring to our customers.Patrick Garrehy, CEO Rootstock Software
SAN FRANCISCO (PRWEB) December 20, 2017
Rootstock Software is a finalist in the 2017-2018 Cloud Awards Program in the categories of Best Cloud ERP Solution and "Best in Mobile" Cloud Solution.
The cloud computing awards program celebrates excellence and innovation in the rapid-growth cloud computing market. The awarding body accepts applications worldwide, covering the US, Canada, Australasia and EMEA. Organizations of any size are accepted for consideration in the program, including those from governmental bodies, start-ups and established multinationals.
In 2017-18, categories include "Best in Mobile" Cloud Solution, Best Software as a Service, Most Innovative Use of Data and Most Promising Start-Up.
Patrick Garrehy, Rootstock Founder and President said: "For Rootstock Software, being shortlisted in the Cloud Awards for both the Best ERP Solution and "Best in Mobile" Cloud Solution categories is clear recognition of our team's hard work and dedication to excellence and innovation. This is the second consecutive year we have been nominated for Best ERP Solution and to also be shortlisted for "Best in Mobile" Cloud Solution for our new RootScan Mobile App speaks to the true value we bring to our customers."
Cloud Awards organizer Larry Johnson said: "Again, we have seen an overwhelming level of engagement from organizations of all sizes, each showing their commitment to cloud-based technologies and leveraging them in their own unique way.
"A clear pattern has emerged, and that is that the global technology community is not playing catch-up to the US when addressing cloud innovation.
"We have seen new levels of excellence in the submissions reviewed, and the judges have had great difficulty in categorizing those applications which should move further in the process. Indeed, virtually all of the entries scrutinized would be worthy of a place on the shortlist.
"It is clear that while the SaaS category remains as hotly-contested as ever, a new breed of competition for excellence is emerging worldwide, making the non-US SaaS submissions more relevant than ever. For those who did not make this year's Cloud Awards shortlist, remember that the Cloud Awards sister program - the SaaS Awards - returns in the spring, to put a laser focus on innovation in software.
"We can only wait until 2018 to see which organizations emerge as final Cloud Award winners in their chosen category."
Over 300 organizations entered, with entries coming from across the globe, covering the Americas, Australia, Europe and the Middle East. Final winners will be announced on Tuesday 30 January 2018.
The Cloud Awards (https://www.cloud-awards.com/cloud-computing-awards/) will return with a new program in late 2018 to continue its recognition of excellence in cloud computing.
The Software as a Service Awards (https://www.cloud-awards.com/software-as-a-service-awards/), judged in the spring, is currently accepting entries for its Spring 2018 program.
About the Cloud Awards
The Cloud Awards is an international program which has been recognizing and honoring industry leaders, innovators and organizational transformation in cloud computing. The awards are open to large, small, established and start-up organizations from across the entire globe, with an aim to find and celebrate the pioneers who will shape the future of the Cloud as we move into 2018 and beyond. Categories include Most Promising Start-Up, Best SaaS, and "Best in Mobile" Cloud Solution. Finalists were selected by a judging panel of international industry experts. For more information about the Cloud Awards please visit http://www.cloud-awards.com/.
About Rootstock Software
Rootstock Software helps manufacturers and distributors deliver personalized customer experiences, build operations that scale and the ability to out-service their competition. With Rootstock ERP, manufacturers can take a more customer-centric and project-oriented view of manufacturing operations. With unparalleled experience in manufacturing, distribution and supply chain software and an established base of over 120 installed and implemented cloud customers, Rootstock offers a better and more reliable way to plan and execute required activities, deliver essential information to all parts of the organization, and improve timely and informed business decision making. Rootstock Cloud ERP is available on the AppExchange by Salesforce, the world's most popular marketplace for business apps, and through our global network of direct sales and dedicated channel partners in North America, Europe, the Middle East and Africa (EMEA), India, Southeast Asia, Japan and Australia/New Zealand. To learn more, please visit http://www.rootstock.com and follow Rootstock on Twitter @RootstockMFG and on Facebook at http://www.facebook.com/RootstockSoftware.