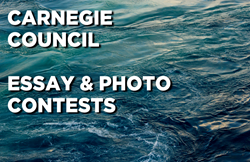 Essay and Photo Contests: Whether you choose to express yourself in words or in photos, Carnegie Council is looking for thoughtfulness and originality.
NEW YORK (PRWEB) December 26, 2017
Calling students and teachers worldwide: there's still time to enter Carnegie Council's
annual international contests: an essay contest for teachers and students on the world's greatest ethical challenge, and a photo contest for students on climate change. The deadline is December 31, 2017.
INTERNATIONAL STUDENT/TEACHER ESSAY CONTEST
ESSAY TOPIC: What is the greatest ethical challenge facing the world today?
All teachers, at whatever level, are eligible. All students, from high school students through graduate students, are eligible. Collaborative essays between students and teachers are welcome. Word limit: 1,000-1,500 words. To learn more, go to https://www.carnegiecouncil.org/news/announcements/2017-08-07-international-student-teacher-essay-contest-2017-the-worlds-greatest-ethical-challenge
INTERNATIONAL STUDENT PHOTO CONTEST
This year's topic is climate change: Submit photos that show examples of climate change OR examples of combating or adapting to climate change.
All students of every nationality are eligible. Non-students will be disqualified. The minimum age is 13. To learn more, go to https://www.carnegiecouncil.org/news/announcements/2017-08-09-international-student-photo-contest-2017-climate-change
ABOUT CARNEGIE COUNCIL
Founded by Andrew Carnegie in 1914, Carnegie Council for Ethics in International Affairs is an educational, nonprofit, nonpartisan organization that produces lectures, publications, and multimedia materials on the ethical challenges of living in a globalized world. Go to https://www.carnegiecouncil.org/.