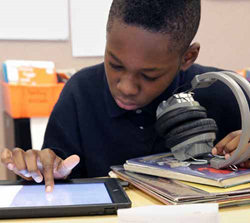 Access to Learning Ally's quality audiobook library built for a school learning environment can make a significant difference in a child's academic potential.
PRINCETON, N.J. (PRWEB) December 20, 2017
This holiday season, Learning Ally, an ed-tech nonprofit with 70 years' experience helping individuals and schools bridge the reading achievement gap, is encouraging Americans to give the gift of 'reading to learn' through quality human-read audiobooks in support of the most vulnerable children in U.S. schools – struggling readers.
Each year, tens of thousands of children and teens fail in school, due to reading challenges that make it difficult, if not impossible, to read standard print materials because of a learning disability, like dyslexia or a vision impairment. Research now suggests that one in five students has dyslexia and many will go undiagnosed.
The Children's Literacy Foundation also finds that one out of six children who do not read at age level by the end of third grade will not graduate from high school. The lack of reading proficiency is a key reason why an estimated 8000 U.S. students drop out of school each day limiting their financial potential and ability to compete in the workforce.
Learning Ally is a nonprofit organization and relies on donors to make tax-deductible donations of $65, $135 or $270 to support U.S. schools that do not have the funding to provide accessible audiobooks for students with print disabilities. The library offers access to 80,000 human-narrated titles, including K-12 textbooks, literature and popular titles to engage all ages.
Skye Malik, a college student in New York City with dyslexia thrives in her courses today because of access she received to Learning Ally in middle school. "It changed my life," she says. "This reading accommodation was the single most important resource in my class!"
"Access to Learning Ally's quality audiobook library built for a school learning environment can make a significant difference in a child's academic potential," says Dr. Scott Taylor, Superintendent of the Highland Park School District, NJ. "Often, these students have high intellectual ability, but cannot keep pace with their reading assignments." Dr. Taylor's district received a grant this year through a partnership with his NJ Senator, Patrick Diegnan and his Department of Education.
Donors to Learning Ally include U.S. businesses with employee-matched contributions who believe in supporting their local communities and schools and to improve education for all learners; philanthropists concerned with the growing reading crisis in America, and individuals who understand the frustration and anguish a child who is blind or dyslexic experiences in the reading and learning process.
By giving the gift of 'reading to learn' with Learning Ally, your generous donations will support more U.S. schools who want to provide learning equality for struggling readers. You will make a lasting impact on a child's academic achievement now and for a brighter future.
Visit http://www.learningally.org or call 1-800-221-4792 and select option 4.
About Learning Ally
Learning Ally is a leading nonprofit ed-tech organization delivering a comprehensive learning solution for struggling readers in elementary, middle and high schools. Our proven solution includes an extensive library of human-read audiobooks that students want and need to read at home and at school, along with a suite of teacher-focused resources that ensure student success. This reading experience helps accelerate learning, enables a new level of access to knowledge and powerfully increases confidence and self-belief.
Learning Ally successfully partners with more than 13,000 U.S. schools, districts and leading state education systems across the country to empower over 240,000 students with improved comprehension, vocabulary, fluency and critical thinking skills.
For over 70 years, the organization has helped to transform the lives of struggling readers by bridging the gap between their reading capability and their academic potential to become confident, lifelong learners who thrive in school and beyond.
Educators can request a demo at 1-800-221-1098 or visit http://www.learningally.org/educators.