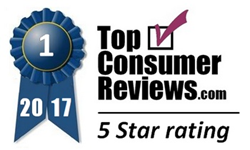 Superior Singing Method is an effective, fun way to learn to sing... (they) earn our highest ranking among providers of Singing Lessons.
Overland Park, KS (PRWEB) December 19, 2017
TopConsumerReviews.com recently awarded their highest five-star rating to Superior Singing Method, an industry leader among Singing Lessons available on the web.
Whether longing to be featured on popular TV shows like The Voice, or simply hoping to be able to carry a tune while listening to the radio, many people are looking for Singing Lessons. Although such instruction is usually available at local colleges, music shops, or with private tutors, these Singing Lessons can be costly and may not fit with every student's busy schedule. For that reason, a number of providers of Singing Lessons have emerged online, allowing aspiring singers to improve their voice, pitch, and breathing technique whenever they choose.
"Superior Singing Method is an effective, fun way to learn to sing," explained Brian Dolezal, of TopConsumerReviews.com, LLC. "Designed by recording artist Aaron Anastasi, SSM provides video lessons through the internet, along with vocal exercises that can be downloaded for use while on the go or at home. The course's eight modules walk students through a variety of Singing Lessons aimed at improving pitch, mastering vocal tone, and much more. More than 10,000 students have used Superior Singing Method, and some even report hearing a noticeable difference in their voice quality after just a few lessons. Best of all, SSM works hard to make their program risk-free, with a complimentary 10-minute lesson and a 60-day money-back guarantee. In 2017, Superior Singing Method earns our highest ranking among providers of Singing Lessons."
To find out more about Superior Singing Method and other Singing Lessons, including reviews and comparison rankings, please visit the Singing Lessons category of TopConsumerReviews.com at http://www.topconsumerreviews.com/singing-lessons/.
About Superior Singing Method
Superior Singing Method is the creation of Aaron Anastasi, a dedicated musician and recording artist who has released numerous albums and worked with a number of Grammy Award-winning producers. SSM was designed out of his passion for helping students learn to sing, using today's newest, most innovative training exercises. Students of SSM can easily find him on the group's online forums, ready to answer questions from novices and advanced singers alike.
About TopConsumerReviews.com
TopConsumerReviews.com, LLC is a leading provider of independent reviews and rankings of hundreds of consumer products and services. From Singing Lessons to Guitar Lessons and Ballroom Dancing Lessons, TopConsumerReviews.com delivers in-depth product evaluations in order to make purchasing decisions easier.