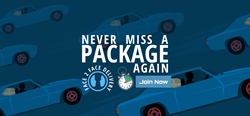 BEMUS PT, N.Y. (PRWEB) January 18, 2018
Today, Spartara, a technology company located in Western NY, announced the launch of Receivur, a ship to network platform that aims to end consumer package theft while providing economic opportunity to freelance delivery drivers.
Of the company's recent launch, Spartara CEO Tim Town said, "We all have heard the term Porch-Pirates. It is estimated that over 25 million Americans have been victims of criminals who steal packages, that often include Christmas gifts, right off of their front porches. We believe that this platform will empower consumers to choose a delivery time that works with their schedule so that they are home to receive their packages."
To understand how Receivur works, imagine that an example character named Mary is buying an expensive camera from her favorite online store to be delivered to her home. Knowing that she works daytime hours in which her package will be dropped off and at risk of being stolen, she would instead sign up with Receivur at http://www.receivur.com. There, she can choose one of many Recievur drivers based on their ratings, and then use the Recievur's address for delivery of her camera. She would choose the time of her choice to have the package delivered face-to-face to her by a trusted Recievur. Mary is charged a small fee per delivery with no long term obligations or commitments. Mary considers it a small price to pay for the peace of mind of knowing when she will have her package and that it is not at risk of being stolen by porch pirates.
Robert Holland, a member of Spartara and the creator of Receivur states, "It came to me after looking for shipping alternatives to get my packages when I wanted them. The solution wasn't out there, and the alternative solutions didn't make sense to me."
Receivur is creating opportunity by participating in the sharing economy. Receivur allows everyday people to sign up to become a delivery driver. After passing a background check and vehicle specifications, Receivur drivers can log into the Receivur app and begin posting for deliveries. Drivers can elect to do as many deliveries as they are able to without overlapping customer time preferences. They are paid a generous portion of each delivery fee charged to their Client and paid as Independent Contractors who work for themselves.
About Spartara: Spartara is a technology company that offers digital and web solutions to companies to help them compete in a global economy. For more information on the launch of Receivur you can visit receivur.com.