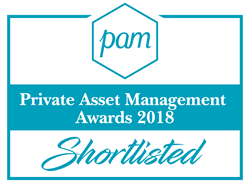 WINSTON-SALEM, N.C. (PRWEB) December 20, 2017
Oakbrook Solutions, one of the USA's foremost systems, process, and delivery experts for the wealth management industry has been shortlisted for the 2018 Private Asset Management (PAM) Awards for the third consecutive year in the best consulting firm for family offices category.
Craig Cook, President and Co-Founder of Oakbrook Solutions says, "We are honored to again be included among the prestigious roster of industry leading firms shortlisted for this year's PAM Awards. Being nominated for the third consecutive year is a reflection of our continued commitment to our clients and a testament to the hard work of our team."
About the Private Asset Management Awards:
The PAM Awards have become a very highly desired industry accolade. The annual Private Asset Management Awards - presented by Private Asset Management (PAM) Magazine - is an evening of recognition and reward for top investment professionals, wealth advisors, legal firms, consultants and other key service providers operating within the private asset management space.
The winners will be announced at an evening ceremony on February 8, 2018 at 583 Park Avenue, New York.
About Oakbrook Solutions
Since 2000, Oakbrook Solutions has been a leading systems, process, and delivery expert for the wealth management industry. The firm provides consulting services and software solutions to solve common problems within our industry. Through focus, expertise, and commitment to their clients, Oakbrook has successfully serviced firms of all sizes, from start-up organizations to the world's largest financial institutions. For more information, visit http://www.oakbrooksolutions.com.
About Private Asset Management Magazine
Private Asset Management (PAM) - the industry publication that exclusively covers the wealth management and family office industry - brings to readers actionable information regarding best business practices, investment management and trust services. It incorporates breaking industry news, people moves, in-depth trend articles and profiles on top multi- and single-family offices and wealth management firms. In conjunction with Pam's monthly breakfast briefings, the magazine advises, educates and fosters a sense of community and peer-to-peer networking opportunities.
PAM's readership includes family offices, private bankers, money managers, high-net-worth units, hedge fund managers, consultants, concierge firms, lawyers and accountants.
PAM is published by Pageant Media, a leading provider of business information and insight.