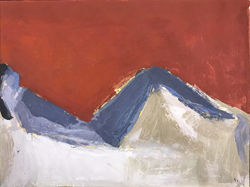 "Exciting discovery of a circa 1950's painting by Nicolas de Stael in a Palm Beach warehouse. " Frank Kaminski
BEVERLY, Mass. (PRWEB) December 21, 2017
Kaminski Auctions' Annual New Year's Estates sale will be held Friday, December 29th starting at 4:00 pm and Saturday, December 30th at 10:00 am and features decorative and eclectic furnishings from the Bill Cornfield gallery of Santa Barbara, California, formerly located at 1855 San Leandro Lane, Santa Barbara, CA. William Cornfield ASID was a well-known figure in decorating circles on the West coast.
In addition, the auction features outstanding fine art including a recently discovered Nicolas de Stael, circa 1955 modern painting; a New York furniture collection of Empire and French pieces; a collection of Georg Jensen silver; a Brookline, Massachusetts Asian collection, and over fifty rugs.
Recently discovered in the Palm Beach area, a circa 1955 Nicolas de Stael (French, 1914-1955), reclining figure measuring 12 inches by x 14 ½ inches framed is valued at $30,000-$50,000. The blue nude, oil on paper is signed Stael L/R, circa 1955. Nicolas de Stael was a Russian born painter who studied in Brussels at the Academie Royale des Beaux-Arts. He spent most of his career painting in France. His work gained recognition during the 1940"s and 1950's and his early Abstracts were tied to Abstract Expressionism while his later works were much more in the realm of Realism.
Other paintings of interest include a Theodore Alexander Weber (1838-1907), large marine seascape of stormy seas at a harbor entrance, oil on canvas valued at 6,000-$9,000,a genre painting by Adolph Eberle (German, 1843-1914) valued at $12,000-$18,000, a Harry Aiken Vincent (1864-1931) beachscape with a Rockport Art Association Exhibition label, a large Brian Coole painting showing Boston Harbor in the early morning with Boston landmarks in view, a Charles Edwin Lewis (1844-1915), salt marsh farm landscape and a J. Rathbone signed painting titled, "The Little Fruit Sellers in the style of Bartolome Estaban Murillo.
Modern art includes two Roy Lichtenstein (American, 1923-1997), color lithographs titled "Repeated Design", 1969, edition 40/100 and dated '69 L/R and "Pyramids," 1969, edition 18/101.
Coming off the tremendous sell-through of Jensen silver in our Thanksgiving auction, Kaminski presents another Jensen collection which includes a Jensen & Wendel sterling silver "Bernadotte" pattern covered casserole #909, approximately 17.4 troy ounces TW, a
sterling silver kettle #45, a Jensen sterling silver footed bowl #234C, and a pair of Georg Jensen sterling silver "Pyramid" candlesticks #748, among others.
A 360 piece Tiffany & Co. sterling silver "Faneuil" flatware service for twelve with approximately 329.7 troy ounces TW is valued at $20,000-$30,000 while a Reed & Barton sterling silver "Francis I" flatware set service for twelve with gold gilt handles and 155 pieces total with approximately 214.7 troy ounces TW. is valued at $6,500-$8,500.
Two spectacular diamond and gold crosses lead the fine jewelry entries with the first a 14-carat yellow gold and diamond cross, approximately 3.84 CTW valued at $7,000-$12,000 and a 14-carat white gold and diamond cross, with the center diamond approximately 3.0 CTW, estimated to bring $7,000-$9,000. There is also a lovely Tiffany & Co. Art Deco platinum diamond pendant watch with movement by C.H. Meylan and a center diamond approximately 0.5 carats, a women's 18 carat, white gold cabochon jade and diamond ring as well as a men's 18k white gold Jubilee Grand Tourbillon Breguet wristwatch, Ref # 3965, with "Swiss Guilloche Main" on the dial.
A fine collection of furniture from a New York estate includes an early 19th century American Classical empire sofa, mahogany with bronze ormolu mounts, and newer upholstery, and a stunning 19th century New York empire card table with ormolu mounts.
Federal furniture includes a beautifully proportioned rare and important English wing chair having shell-carved knees and an early 19th-century cherry and flame birch Federal bow-front chest.
Continental furniture includes a finely carved 17th/18th-century gilt- wood table with hard stone top, a circa 1900 Louis XV-style bronze mounted marquetry inlaid walnut bombe-shaped commode with breche d'Alep marble top, an 18th century Italian Florentine-style paint-decorated chest and many more fine pieces from the same New York estate.
Decorative art features a 19th-century French Louis XV-style clock having ornate bronze ormolu mounts in a wonderful Tiffany style green/blue color. The clock measures 36 inches high and with the accompanying shelf the clock set stands at 50 inches in height.
A late 17th-century polychrome decorated. Italian carved angel measuring 37 inches in height with a Sotheby's provenance is sure to garner lots of interest as well as a selection of marble, limestone and granite sculptures in the sale.
Two of the sculptures were purchased in the 1950's from an archaeologist collector's estate in Ashbourne, Derbyshire, England.
The first is an early Iron Age limestone Viking bust of Freya, the Goddess of Love, who is also associated with sex, lust, beauty, sorcery, fertility, war, and death and the second is a Celtic granite bust carved with an open sarcophagus top. The "Green Man" symbol is associated with rebirth and has religious ritual significance.
Italian sculpture in the sale includes an Emilio Santarelli (Italian, 1801-1886), carved and signed Italian marble sculpture titled "Hypnos" and a
19th-century Italian carved marble bust of the Roman emperor Marcus Aurelius on a marble base.
With a selection of over fifty important Persian Heriz, Keshan and Turkish Oushak antique and semi-antique rugs, this is an auction not to be missed before you ring in 2018.
The auction will be held at the Kaminski Auction gallery, 117 Elliott Street, RT. 62, Beverly, Massachusetts.
Preview times will be held December 26th-28th, 10AM-5PM; December 29th, 10:00 AM- 4:00 PM; and December 30th at 8:00 AM. Day One Auction starts Friday at 4:00 PM, and Day Two Auction starts Saturday, at 10:00 AM.
Preview is open all day while the auction is live. For more information go to http://www.kaminskiauctions.com and sign up to bid with KaminskiLIVE.