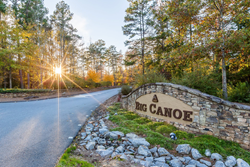 Demand Soars at Gated Mountain Community
ATLANTA (PRWEB) December 20, 2017
As the end of the year approaches, it's a time for reflection. But for Big Canoe, it's a time for celebration according to Real Estate Scorecard as sales records confirm buyer confidence in the award winning mountain community in Northern Georgia.
Public records reveal 126 qualified home sales to date in 2017 compared to 77 in 2016 for the same period. The average home price is $333,000. Land sales reflect 16 closed sales versus 9 in 2016 for the same period with an average closed price of $115,000.
After spending a lot of time at Big Canoe over the years, Real Estate Scorecard understands why families love it here. Who wouldn't want to live in a national park-like setting? A place where one feels like they're on vacation 24/7. Big Canoe's forested canopy, mountain streams and sparkling lakes are pure bliss.
The Big Canoe real estate development in Jasper Georgia spreads across 8,000 acres and seven mountains. Development began back in the late 1980's. Approximately 2,700 homes have been built to date of the 4,600 planned. Homes blend beautifully in the landscape and come in all sizes and shapes. From low maintenance townhomes and lakeside villas, to mountaintop estates perched at the highest elevation, around 3,200 feet. In fact, on a clear day, homes on the mountaintop can see the skyline of Atlanta. Homes at Big Canoe are affordable. Resales can be found in the $90's all the way up to over $2 million.
And if buyers can't find what they're looking for, Big Canoe's design team can easily help them build a home just the way they want it. Red Oak Fine Homes, Mountain Oak Quality Homes, Peagler Custom Homes, Modern Rustic Homes, and J Bryant Homes are Big Canoe's quality home builders.
Big Canoe is also a community of all types of down-to-earth friendly people. A place where retirees hang alongside young families. Where working executives who commute to northern Atlanta live alongside entrepreneurs who work digitally from home in their pajamas.
Health and wellness is a thread that weaves everyone together. The community's 16,000 square foot Wellness Center is one of the congregating hot spots equipped with modern fitness and cardio gear as well as housing an indoor heated saline swimming pool. Members have access to personal trainers, group classes, massage therapy, whirlpool, and saunas.
The Wildcat Recreational Center is another with an outdoor swimming pool in addition to the outdoor swimming pool at the beach area. The community has multiple tennis courts, pickleball courts and ball fields around the community. One of our favorite amenities are the 22 miles of award winning hiking trails leading to three cascading waterfalls. Trails are always active with dog walkers, joggers and those enjoying a leisurely stroll in the mountain paradise.
Big Canoe also has 3 nine hole championship golf courses that are distinctly different:
9 Hole Creek Course overlooking Lake Sconti
9 Hole Cherokee Course with dramatic elevations
9 Hole Choctaw Course accented by waterfalls and rushing creeks
The Lake Sconti Clubhouse overlooking the golf course is stunning. Sports amenities combined with the POA fees are only about $300 a month. That's a bargain for gated communities when one really understands the level of amenities and services that come with it according to Real Estate Scorecard. Golf is optional and only $150 a month more for full privileges at one of the finest mountain golf courses in Georgia.
Sales numbers at Big Canoe in 2017 affirm how happy people are with Big Canoe. While families are looking for a happy place to live in the Appalachian Mountains, don't miss exploring Big Canoe real estate.
Call Big Canoe directly at 866.244.2266 to schedule a tour.
About Real Estate Scorecard:
Real Estate Scorecard writes unbiased real estate reviews providing in-depth information about popular gated communities in Florida, Georgia, the Carolinas and Tennessee and Central America, all in an effort to help people discover where to retire in the South.
Website: http://realestatescorecard.com