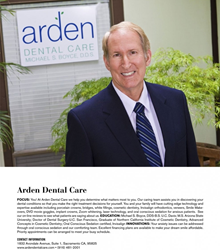 "We are so happy to see the difference we make in our patient's dental experience," says Dr. Michael Boyce. "It truly is an honor to contribute to their health and confidence."
Sacramento, Calif. (PRWEB) January 10, 2018
Arden Dental Care puts their patients' comfort first and it lands them in Sacramento Magazine's Top Dentists of 2017.
"We are so happy to see the difference we make in our patient's dental experience," says Dr. Michael Boyce. "It truly is an honor to contribute to their health and confidence."
Thanks to conscious sedation, patients can now enter Arden Dental Care's office without experiencing any anxiety because of ADC's top priority to provide an experience that will be comfortable and relaxing to each visitor. A wide range of amenities and comfort items from memory foam pillows and warm blankets to DVD glasses, are also provided to make the patient feel right at home.
And because Arden Dental Care has the tools to occupy the mind, a patient may already feel calm by the time they're being treated, but at Arden Dental Care, they will take relaxation one step further by providing simple and safe conscious sedation methods. With conscious sedation, patients can remain awake during their procedures, but in a state of total comfort and peace. Conscious sedation doesn't make patients fall asleep, but some of the patients are so comfortable, they fall asleep anyway.
It's techniques such as these that Arden Dental Care wants to show future patients because oral hygiene plays such a large role in overall health, no one should avoid the dentist due to anxiety and fear. Oral hygiene can be associated with heart disease and diabetes. Therefore, it's their goal to provide treatment without the stress so all levels of health can be maintained.
Arden Dental Care would like to give a big thank you to Sacramento Magazine for being named as a Top Dentist of 2017 and helping spread the word about oral health.
*Sacramento dentist Dr. Michael Boyce provides cosmetic dentistry, general dentistry, restorative dentistry, sedation dentistry and even Invisalign clear braces to patients in the Sacramento, California area, including from the surrounding communities of Carmichael, Fair Oaks, Elk Grove, Natomas, Davis and Gold River, CA. He has been rated one of the best dentists in Sacramento based on his reviews on Dr. Oogle and was named one of the top dentists by Sacramento Magazine.