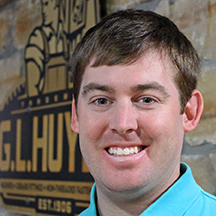 MINNEAPOLIS, Kan. (PRWEB) December 20, 2017
G.L. Huyett is proud to announce the addition of Dewey Oxner as Regional Sales Manager in the Southeast. This appointment expands G.L. Huyett's coverage and canvass intensity, and aligns to the recognition that the Research Triangle Corridor is increasingly seen as a leading-edge manufacturing hub for industry.
Dan Harriger, Vice President of Sales at G.L. Huyett, said, "Dewey was carefully selected using our rigorous recruitment methods, and he will be trained using best-in-class methods to enable him to support our distributor customers in the region with effective solution selling."
Harriger noted Oxner's body of work and upbringing. "Dewey comes from an entrepreneurial family and played golf competitively in high school. He brings that competitive spirit with him to his vocation." Oxner previously served as a Customer Sales Specialist and an Account Executive for MSC Industrial Supply Co.® in Columbia, SC, a leading industrial distributor with a strong footprint in the region. Oxner will be based out of Columbia.
G.L. Huyett's CEO, Tim O'Keeffe adds, "We have worked hard to create an organizational culture aligned to excellence and professional development. I am pleased to see our hard work validated through recent additions to our Regional Sales Team."
To contact Dewey Oxner, call 803-636-6808, e-mail doxner(at)huyett(dot)com, or visit http://www.huyett.com.
About G.L. Huyett
Established in 1906 by Guy Huyett in the "other Minneapolis," the company is one of the oldest continuously operating businesses in Kansas. The firm is a leading innovator of products and services geared to support industrial distributors in the non-threaded fastener and power transmission sectors, delivered by competent customer-centric people operating in a Culture of Excellence.