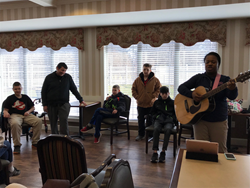 "The students always look forward to visiting with the residents," said Joe Rohr, Summit ESC's Kids First/Transition Opportunity Program for Students (TOPS) program coordinator. "The visits allow them to apply the skills they are learning in class, in a real-world environment."
CUYAHOGA FALLS, Ohio (PRWEB) December 20, 2017
Students in Summit Educational Service Center's (ESC) Kids First program recently visited the Greenfield Estates Alzheimer Unit to celebrate the holiday season.
Under the direction of the program's Music Therapist, Kamilah Morgan, the students sang a variety of Christmas songs, including the "12 Days of Christmas," "We Wish You a Merry Christmas," "Jingle Bells" and "Rudolph the Red Nose Reindeer."
After their performance, the students enjoyed hot chocolate with the residents.
In addition to this visit, the students visited the residents during Halloween to trick-or-treat and made cards for Veterans Day.
The visits benefit both the residents and the students by creating the perfect opportunity for residents to interact with the students in their environment, and by helping the students to develop better social skills.
"The students always look forward to visiting with the residents," said Joe Rohr, Summit ESC's Kids First/Transition Opportunity Program for Students (TOPS) program coordinator. "The visits allow them to apply the skills they are learning in class, in a real-world environment."
The Kids First program provides an individualized learning environment for students with autism and behavior challenges in kindergarten through eighth-grade.
For more information on the Summit Educational Service Center, please visit http://www.SummitESC.org.