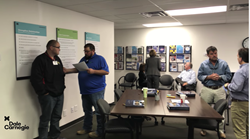 The new design and visual identity better capture the empowering effects of the Dale Carnegie courses which enable people to make a difference in their lives, their businesses and their future opportunities."
BIRMINGHAM, Ala. (PRWEB) December 22, 2017
Dale Carnegie® has been in the business of improving performance for companies and individuals for 104 years. During that time, this iconic company has constantly re-invented themselves and their offerings to stay competitive in an ever changing market.
 
Accordingly, last year, Dale Carnegie introduced "a sweeping global brand modernization" with new logo, professional branding, and a vibrant color scheme. Dale Carnegie of Central and Northern Alabama recently incorporated this modern brand aesthetic locally right here in Birmingham by partnering with Alphagraphics.
Featured in the new Dale Carnegie visual identity is the logo, which takes the form of a "DC" monogram. The logo's resemblance to a butterfly symbolizes the transformative nature of the Dale Carnegie training programs.
Dale Carnegie unites people and businesses across cultures, classes and industries through universal teachings and truths. They engage people at every stage of career and live, showing them how to tap into and share the best parts of themselves. It is with this vision in mind that the Dale Carnegie of Central and Northern Alabama team worked to design a new office and training facility that embodied the transformative nature of the programs themselves.
Joe Hart, Dale Carnegie's CEO recently commented about how excited they are to use the new brand to better tell the Dale Carnegie story. Joe said, "the new design and visual identity better capture the empowering effects of the Dale Carnegie courses which enable people to make a difference in their lives, their businesses and their future opportunities."
Click here to view the video and see the transformation of the Birmingham offices and training facility. For more information on any of Dale Carnegie Central and Northern Alabama's programs, visit http://www.birmingham.dalecarnegie.com.