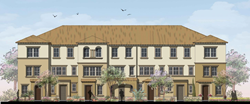 IRVINE, Calif. (PRWEB) December 20, 2017
Landsea Homes is rapidly becoming one of the fastest growing homebuilders in the East Bay through its strategic acquisition of high value, entitled land throughout the region. Recently, Landsea Homes announced they have completed the acquisition of 2.9 acres to develop Siena, a master-planned community of 73 townhomes located in the highly desirable East Bay city of Milpitas, CA. The company purchased the property from SCS Development Company for an undisclosed price.
In Siena, Landsea Homes will offer three distinctive floorplans ranging from 1,673 to 1,853 square feet with plenty of flexible space, perfect for today's growing families. The homes feature sleek architectural designs, with three bedrooms and 3 or 3.5 bathrooms, plus bonus rooms. All the homes boast oversized master suites, gourmet, eat-in kitchens, great rooms, dining spaces and patios or decks, perfect for outdoor entertaining.
Residents will enjoy walking to the newly constructed Bob McGuire Park, a spacious city-owned park and recreational center that features tennis courts, shaded picnic areas, barbecue grills, a small community center building for events and classes and an outdoor amphitheater. The park is named after Bob McGuire, the city's first director of parks and recreation and voted Citizen of the Year in 1986.
The community is also within walking distance of the Great Mall, the largest enclosed outlet shopping mall in Northern California that provides the ultimate shopping experience with over 200 outlet and value stores. Milpitas is also part of Silicon Valley, the nation's celebrated technology hub. Siena is conveniently located close to the 680 and the 880 freeways, making it easy for residents to access major employers in Santa Clara and Palo Alto including tech giants like Google and Tesla Motors.
Comfortably nestled in the Silicon Valley, between San Jose to its south and Fremont to its north, Milpitas has become one of the hottest new destinations for high-tech employers and their employees. Siena will be one of the newest communities in the city and will offer residents the convenience of being close to major roadways, local parks and recreation, state and private universities, as well as popular shops and restaurants. In addition, Milpitas is home to its own technology employers including Maxtor, LSI Corporation, Adaptec, FireEye, SanDisk, Flex and Cisco.
Landsea Homes anticipates construction to begin in Spring 2018, with the first townhomes scheduled to be delivered by December 2018. The community is scheduled for completion in late 2019. For more information about Siena please visit http://www.landseahomes.com or contact Josh Santos at jsantos@landsea.us or 408-214-0558.
About Landsea Homes
Driven by a pioneering commitment to sustainability, Landsea Homes designs and builds homes and communities throughout the nation that reflect modern living—inspired spaces and features, built in vibrant, prime locations where they connect seamlessly with their surroundings and enhance the local lifestyle for living, working and playing. Landsea Homes is the U.S. division of the Landsea group of companies, China's leading green technology property developer and one of the top 100 real estate companies in China with global operations in Hong Kong, Germany and the United States. For more information about Landsea Homes, please contact Josh Santos at jsantos@landsea.us or visit http://www.landseahomes.com.