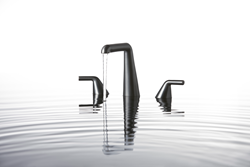 KOHLER, Wis. (PRWEB) December 19, 2017
ANN SACKS Tile and Stone and KALLISTA plumbing brands under the Kohler Co. Decorative Products Sector, announced today that they are recipients of The Chicago Athenaeum Museum GOOD DESIGN Awards for the ANN SACKS Itai Bar-On Collection and KALLISTA Taper™ by Bjarke Ingels. The trademarked awards program was founded in Chicago in 1950 by architects Eero Saarinen, Charles and Ray Eames, and Edgar Kaufmann, Jr.
This is the 67th year the Chicago Athenaeum Museum has conducted the Best Consumer Design Products and Graphics GOOD DESIGN awards, reviewing product submissions from over 48 countries. The awards cover new consumer products, graphics, and packaging designed and manufactured in Europe, Asia, Africa, and North and South America and organized annually by The Chicago Athenaeum Museum of Architecture and Design in cooperation with the European Centre for Architecture, Art, Design and Urban Studies. Entries included categories in design and innovation, sustainability, creativity, branding, ecologically responsible design, human factors, materials, technology, graphic arts, packaging and universal design.
KALLISTA Taper by Bjarke Ingels
Kallista, a leading designer and provider of kitchen and bath luxury products, partnered with Bjarke Ingels, founder and head of the Danish architectural practice Bjarke Ingels Group, to create Taper by Bjarke Ingels. Deeply rooted in the principles of classic Mid-Century Danish design, the Taper Sink Faucet marries advanced engineering with a sleek cone shape that transitions outward into a cylinder.
The signature cone-to-cylinder design represents a paring down of the form to its most elemental components. "The sculpted shape of Taper translates from the geometry of the pipe and sculpts the flow of water to the hands or body," described Ingels. The faucet has an austere, forward-leaning profile with a 90-degree bend in the faucets and lever handles to slyly reference the stark geometry of the pipes behind the walls. The faucet spout is designed with a tip that is uniquely flush with the faucet; the aerator is in the base where it can't be seen by the user. Taper meets the flow, force and coverage mandated by the Environmental Protection Agency to be WaterSense® listed with a 1.5 gpm laminar flow aerator.
Acclaimed, technologically savvy architect Bjarke Ingels – founder of Denmark-based BIG-(Bjarke Ingels Group) – earned a reputation for creating tradition-defying sustainably minded buildings and projects. His innovative Taper™ by BIG marries form and function with architectural lines and an unmistakably urban vibe. In addition to teaching at Harvard, Yale, Columbia and Rice Universities, Ingels received the Architectural Innovator of the Year Award from the Wall Street Journal in 2011.
ANN SACKS Itai Bar-On Collection
ANN SACKS, a premier manufacturer and distributor of fine tile and stone, collaborated with product designer, Israel-based Itai Bar-On, on a collection of handcrafted tiles exclusive to ANN SACKS in North America. The very nature of the concrete medium adds to the textural nuance of the tiles – smooth to the touch and softly honed, with a surface randomly broken with pits and other marks that occur during the pouring and curing process.
"The idea for the bending of concrete began as a concept to play with concrete as if it were a plasticine," explained Bar-On. "I wasn't thinking of a tile when I did my research, the idea was to develop a method so I could do many things with it. The research was based on two things – the material and the mold. On the one hand I was trying to achieve the best formula for the concrete and on the other hand I developed a unique mold that could combine perfectly with the material. This has opened me up as a designer, creating a whole new world of products that I could design. As I already was so interested in the handcraft of tile, it was automatically the first product I did. The idea to use light with it was requested and the result speaks for itself. I have called it Free Concrete because I could almost play with it as freely as I wanted to."
A graduate of the Industrial Design Department of the Shenkar School of Design in Israel, Bar-On's distinctive design acumen has garnered him many accolades the world over, including the prestigious 2010 Designers' Award. He is intrigued by textures, shapes and colors, all employed to create his many varied products, an undeniable force of classical and modern textural elements that captures the imagination and separates Bar-On designs from the mainstream marketplace.
About KALLISTA
KALLISTA is known for its designs of luxury plumbing products, offering faucets and fixtures thoughtfully created for tasteful, whole-bath solutions. KALLISTA is available in fine showrooms in major cities throughout the world. Kallista, along with sister brands Ann Sacks Tile and Stone, Inc., and Robern mirrored cabinetry and vanities, is a division of the Kohler Co. Decorative Products Group, a wholly owned subsidiary of Kohler Co.
About ANN SACKS
Founded in 1981, ANN SACKS has built its reputation with inspiring designs in tile, stone, plumbing, lighting and accessories. Based in Portland, Ore., the company, along with sister brands, KALLISTA plumbing and Robern mirrored cabinetry and vanities, is a division of the Kohler Co. Decorative Products Group, and a wholly owned subsidiary of Kohler Co.
Founded in 1873 and headquartered in Kohler, Wis., Kohler Co. is one of America's oldest and largest privately held companies. Kohler is a global leader in the manufacture of kitchen and bath products, engines and power generation systems, cabinetry, tile and home interiors, and international host to award-winning hospitality and world-class golf destinations.