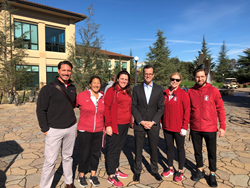 (PRWEB) December 29, 2017
In November, Assemblyman Marc Berman visited Stanford University to meet with athletic trainers and tour the healthcare facilities. They visited the NCAA varsity sport facilities, the Phillip & Penelope Knight Athletic Training Center, the Lacob Family Sports Medicine Center, and the orthopedic clinic at Lucile Packard Children's Hospital.
Athletic trainers are physical medicine and rehabilitation specialists who focus on the prevention, treatment, and rehabilitation of injuries and illnesses. They are recognized by the American Medical Association, U.S. Health Resources Services Administration, and the U.S. Department of Health and Human Services as a healthcare profession.
California is the only state that does not regulate the profession of athletic training. Fifteen universities in California, including seven CSUs, have nationally accredited athletic training education programs. Despite this fact, anyone can still act as an athletic trainer; approximately 30% of individuals calling themselves athletic trainers in high schools are not qualified. This poses significant risks to student athletes because the mistakes of unlicensed athletic trainers can lead to serious issues, including permanent disability or death.
Athletic trainers in California are currently working on legislation that would change that by regulating licensure through the state. Many athletic trainers are reaching out to local and state government officials to demonstrate the importance of properly licensed athletic trainers. For more information, please visit http://www.atyourownrisk.org or https://ca-at.org/current-california-law/.