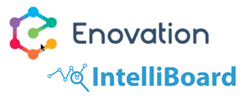 Enovation is happy to join the IntelliBoard Partners community, to better serve our clients and partners with end-to-end solutions and services for eLearning.
MONROE, Conn. (PRWEB) December 27, 2017
IntelliBoard, the premier reporting and analytics provider for the Moodle™ LMS and Moodle Premium Integrator, announced a new partnership with Enovation, based in the U.K. and France. Enovation has been providing excelled LMS solutions to clients since 2004, with experience in innovative learning, performance and talent management.
Enovation clients now have the ability to expand their reporting and analytics capabilities using IntelliBoard. IntelliBoard provides intuitive, user-friendly, on-demand reporting including easy-to-read charts, graphs, tables. Higher Ed and corporate users alike can benefit from the vast array of information collected through the IntelliBoard service - with application across multiple institutional roles - to help make informed, prompt decisions with real-time data, improving workflow for businesses, educational institutions, and other Moodle™/Totara LMS users.
Anatoliy Kochnev, IntelliBoard's CEO shared, "Enovation has been a recognized Moodle partner for many years, and a leader within the U.K. As IntelliBoard continues to expand our platform, we anticipate the contributions and insights that both Enovation and their clients will have. We want to empower eLearning."
Gary Mahon, Director of Enovation stated, "Enovation is happy to join the IntelliBoard Partners community, to better serve our clients and partners with end-to-end solutions and services for eLearning. IntelliBoard gives Enovation's clients a unique opportunity to access the most complete and easy-to-use pedagogical reports for Moodle & Totara users. After years of contributing to the Moodle & Totara communities, our team is proud to join the IntelliBoard partnership."
About IntelliBoard
IntelliBoard.net offers analytic and reporting services to education communities and institutions who use the Moodle™ LMS. IntelliBoard extracts the statistical data collected in Moodle™ and presents this rich data on a single dashboard in the form of easy-to-read, aesthetic, and printable charts, graphs, and formatted reports. We strive to be the premier analytics dashboard for Moodle™ LMS users. Feel the strength of empowered learning with our purposefully built analytics for education and training. Our mantra: provide the best instantly-available, most-simplified point-and-click access to your Moodle™ LMS data to inform your educational business decisions.
Contact Tonya Riney @ IntelliBoard: tonya@IntelliBoard.net, 866.89.REPORTS
About Enovation
Enovation offers open source Learning Management Systems for Compliance and Professional Development. Trusted for 15 years, the Enovation team has become a leading provider of services & technologies to address the digital transformation of education and training, with more than 200 LMS installations serving organisations of all types and sizes – universities, businesses, charities and the public sector. Enovation has one of the largest team of Moodle / Totara experts in the world.
Contact Audrey Colmer @ Enovation: audrey.colmer@enovation.ie, T: +353 (0)1 865 6469