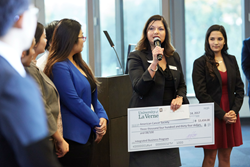 LA VERNE, Calif. (PRWEB) December 21, 2017
Nine student teams from the University of La Verne raised more than $27,000 in the fall semester through startup businesses they created as part of the Integrated Business Program.
The program gives undergraduate business students hands-on experience operating a real business before graduation, with profits going to a charity of their choosing. The final checks were presented to representatives from each of nine charities at a ceremony in the university's Abraham Campus Center on Dec. 14.
"The charity component was built into the Integrated Business Program because we wanted our students to learn the value of giving," said Abe Helou, dean of the College of Business and Public Management. "Partnering with a charity allowed them to promote their sales and get involved with the community at a deep level."
The College of Business and Public Management launched the Integrated Business Program in fall 2011. Undergraduate students take several courses together that teach the fundamentals of running a business: finance, management, and marketing. They create their startup in a fourth course—the practicum.
The students separate into teams, select a product and charity, and create a business plan. The teams then pitch their business to a bank representative to secure a $2,500 business loan. The competition intensifies as the teams market and sell their products over the next 10 weeks. At the end of the semester, the teams repay the loans and the profits go to the charities.
"One of my favorite parts of the program is when the students present the checks to the charity," Helou said. "It's an opportunity for everyone to come together to celebrate this accomplishment and hard work."
The nine teams in the fall 2017 semester sold products ranging from key chain organizers to food storage containers to foldable sunglasses. Charge the World, which sold magnetic phone chargers, raised the most money for charity this semester, with $4,087 going to a nonprofit theater company in Upland.
The money raised by Charge the World will allow the company to provide workshops, classes, and paid internships for high school and college students, company officials said. The money will also help the six-year-old nonprofit open its own studio theater, which will be celebrated at a grand opening in January. The Charge the World students plans to attend.
In seven years of the Integrated Business Program, student teams have donated more than $155,000 to local nonprofits.
At the Dec. 14 presentation, University of La Verne President Devorah Lieberman said the Integrated Business Program was a point of pride when she and Helou toured universities in Asia.
"Leaders at every university we visited said they have never heard of anything like our integrated business curriculum," Lieberman told the audience. "They never heard of programs that are so distinctive and relevant, while developing skills that you can use for the rest of your lives."