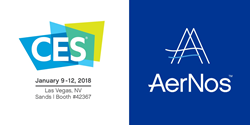 One Trillion Nano Gas Sensor Network, providing actionable data in real-time is taking shape
SAN DIEGO (PRWEB) December 20, 2017
AerNos, an innovator in nano gas sensors, will make multiple product announcements in Las Vegas, leveraging CES's global reach and focus on breakthrough technologies to introduce the company's inaugural nano gas sensor product lines.
AerNos nano gas sensors are capable of detecting multiple gases simultaneously to the parts per billion (ppb), positioning the company to develop application specific solutions that meet the needs of a wide range of IoT, Smart City, Smart Home, wearable, mobile and other integration partners.
Announcements at the Tuesday, January 9, 2018 press event will include the following categories:

Air Quality Monitoring – Until now gas sensor size, cost and ongoing calibration issues have made deployment of large numbers of sensors and personal level monitoring impractical. AerNos sensors will change this.
Smart City/IoT – Low cost sensors are poised to revolutionize Smart City deployments by making large networks of sensors possible. AerNos sensors are "always on", enabling 24/7 monitoring 365 days a year, for granular air quality and infrastructure gas leak detection.
Smart Home/IoT – Consumers are looking to the Smart Homes of the future to reduce exposure to pollutants, reduce disease and to improve health. AerNos is meeting the growing demand for indoor air quality monitoring with sensors that are designed to be easily integrated into the consumer and commercial product lines of B2B partners.
Homeland Security & Industrial – AerNos sensors are ideally suited for environments where large sensor arrays, drones and wearables are required. The sensors are tiny (3x3mm MEMS sensor), low power (<10mA operating requirement), sensitive (to ppb levels), real-time (response within seconds of exposure) and self-calibrating. Sensor readings are absolute vs. relative.
"Our vision of a One Trillion Nano Gas Sensor Network, providing actionable data in real-time is taking shape. I can't think of a more appropriate or exciting place than CES to be announcing our first breakthrough products," said Sundip R. Doshi, AerNos' CEO and Founder. "The products we announce at CES, along with future nano gas sensor products in the works, will disrupt multiple industries and create new product opportunities for our customers."
As of Tuesday, December 19, AerNos is in the Top 10 of more than 4,300 exhibitors based on visits to CES online listings. By Product Category AerNos ranks 2nd out of 36 for Nanotechnology, 4th out of 361 for Sensors, 3rd out of 269 for Smart Cities, 6th out of 833 for Smart Home/Appliances/Energy Management and 2nd out of 509 for Wearables.
About AerNos at CES 2018
AerNos will be at Booth #42367, located at Tech West, Sands Expo, Level 2. Visit our CES 2018 listing and watch our 30 second CES 2018 video.
About AerNos
AerNos, Inc. develops application-specific nano gas sensors based on its breakthrough and proprietary AerCNT Technology to detect harmful gases in the environment. AerNos nano gas sensors are designed to be easily integrated into consumer and commercial product lines such as standalone monitoring devices, non-stationary devices (drones, industrial robots, construction equipment, etc.), modes of transportation, wearables, smartphones, and the IoT. For more information, please visit http://www.AerNos.com. You may also contact us at media(at)AerNos.com.