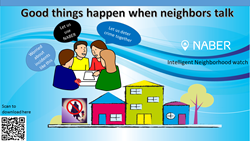 Safer with Naber
SAN JOSE, Calif. (PRWEB) January 13, 2018
Today, San Francisco-based Naber Inc., announced the first release of the iPhone app version of the Intelligent Neighborhood Watch app NABER (patent pending technology), which it believes will be patronized by many parents, residents and community leaders to build safer neighborhoods.
Using just an iPhone or computer, Naber provides a simple solution to the problem of personal safety at home, community and in schools. Naber improves Neighborhood Watch groups' response time and communication.
The breakthrough technology analyzes the surroundings of home and the neighborhood within a specific area and provides with information that can be used for safety around the neighborhood.
Wouldn't it be nice to stay safe as you exit the car? Wouldn't it be reassuring to spot if anyone is lurking around the house and immediately call a friend, a next door neighbor or law enforcement at the first sign of trouble? Wouldn't it be nice to know the surroundings of the home as kids walk back from school or are home alone? Naber provides a simple solution leveraging data curated from the ring of neighbors around the neighborhood to provide information about crime and safety of the neighborhood.
For example, Naber can send a parent an alert about a person behaving suspiciously in the neighborhood so your loved ones returning from school can proceed with caution.
Or as one gets away for the holidays, one could use Naber to help stay connected with neighbors and the neighborhoods and stay informed. For travelers, Naber can provide information about safety of the neighborhood before getting/checking into the next peer-2-peer home rental or a hotel.
In addition to its usefulness to families, Naber can be used by neighborhood watch groups, businesses and community facilities.
"Naber is an effective tool for neighbors to use in keeping their neighborhoods safe and in fostering communication at the neighborhood level," said Bill Cantin, Neighborhood Communications Coordinator, City of Columbia Community Development Department.
Naber can unobtrusively scan surroundings for suspicious activity. It puts safety information into the hands of community members concerned about home and community security. It decreases threats or fear of break-ins, theft and vandalism. With Naber, suspicious activities and crime can be deterred. Naber Inc believes that Naber will be one of the most powerful tools for enabling neighbors to connect, collaborate and communicate crime information so they can watch out for each other and build safer communities.
Naber features one of the largest database of non-emergency numbers and the relevant local number is pulled up location via GPS in the app.
The Naber app also integrates with an existing Google's NEST camera and conveniently provides a camera video feed within the app.
Try the Naber app now while it is absolutely free. Download at http://www.naber.io. Or download at the Apple App store.
https://itunes.apple.com/app/id1276879191?mt=8
Better to be safe than sorry.
Let us build safer communities together
For press inquiries, please email contact(at)naber(dot)io