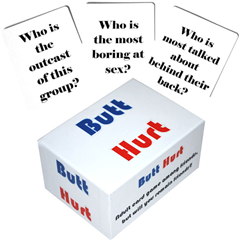 DALLAS (PRWEB) December 21, 2017
Butt Hurt is a card game played among friends that reveals the, sometimes uncomfortable, truth. This game is not designed for sensitive people who get butt hurt easily. It gets personal, very personal.
Spencer's Gifts just picked us up to go into their stores Spring 2018.
Radio stations across the nation are playing Butt Hurt Game on air, including nationally syndicated Z100's Elvis Duran & KISS FM's Kidd Kraddick Morning Show in Dallas.
Quote from The Rizzuto Show "We love it. People have been going crazy when we play it on air. Our boss said it's the best cringeworthy radio he's ever heard".
Sales across the nation are blowing up and we are very proud that it's manufactured in the USA out of Michigan.
If any press outlet would like a free Butt Hurt Game for their review, please do not hesitate to hit us up. You can call, text, or email me personally with any questions or for comments.
Currently sold at:
Butthurtgame.com
Amazon
Walmart.com
Spencer's
eBay