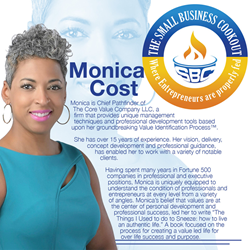 CHARLOTTE, N.C. (PRWEB) December 20, 2017
Monica Cost, Chief Pathfinder of The Core Value Company LLC, to speak at The Small Business Cookout Summit to be held February 9-10, 2018 at The Hilton Center City of Charlotte.
Hosted by the Founders of OnceLogix, The SBC will consist of a two-day experience. Attendees will immerse in knowledge and best practices that will take the individual and their business to the next level.
"We are thrilled to host Monica Cost at this year's Conference," said Rod Brown, COO of OnceLogix. "Monica is a leader in her field and her collective wisdom challenges us all to make the most of our own lives, talents and experience. Monica will provide attendees life-changing opportunities to connect with other women and to create new professional and personal roadmaps for their lives."
At the Summit, Cost will discuss the VIP (Value Identification Process™) that she created to assist individuals in creating sustainable strategies and processes that allow them to reach their goals for personal development and processional success.
"Speaking at the SBC is a unique opportunity to exchange high level and tactical strategies and vision for the long-term sustainability of small businesses," said Cost. "Many times we are just sitting at large conferences with high-level executives speaking from the stage about their experience and journey to now. The SBC allows for a different level of connectivity. I am honored to participate."
OnceLogix, LLC is a nationally recognized award-winning Software Company in Winston-Salem North Carolina. Over the past 10 years, OnceLogix founders have created several successful, profitable businesses that continue to sustain profitability year after year. In 2016, Inc. magazine ranked our Winston-Salem based company 3,719th on its 35th annual Inc. 5000 list, the most prestigious ranking of the nation's fastest-growing private companies. The list represents a unique look at the most successful companies within the American economy's most dynamic segment – its independent small businesses. After learning that less than 1.5% minority-owned companies were on the list, the founders concluded that they wanted to do something to help with this systemic problem creating The Small Business Cookout.
For more information about Monica Cost, please visit http://www.monicacost.com.
Facebook: MonicaDCost
Twitter: @monicacost
For more information about the Small Business Cookout and to register, please visit the conference website here: https://www.eventbrite.com/e/the-small-business-cookout-charlotte-nc-tickets-39480601542.