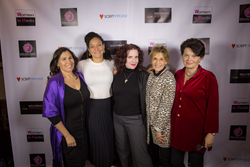 "I'm very proud of the work Women in Media has done to forward inclusion in the crew." -Tema Staig, Executive Director of Women in Media
LOS ANGELES (PRWEB) December 20, 2017
Women In Media hosted their annual holiday party at Taix French Restaurant in Los Angeles this past Sunday, December 17th, 2017. It was a luncheon and panel Q&A toasting Amy Holden Jones (Screenwriter / Director / Producer), Nancy Schreiber (Cinematographer), Kira Kelly (Cinematographer), and Germaine Franco (Composer).
There were also special guests on hand to toast these amazing women. Five-time Academy Award nominee for Best Cinematography, Caleb Deschanel toasted Cinematographer Nancy Schreiber. Kimberley Browning, Founder of Hollywood Shorts, Advisory Board Member of Women in Media, and Executive Producer of HBO Access, toasted Cinematographer Kira Kelly. Score Production Supervisor known for her work on Kung Fu Panda 3 and Captain Underpants: The First Epic Movie, Charlene Huang toasted Composer Germaine Franco. Actress Deborah DeLiso, known for her work on The Slumber Party Massacre (1982), toasted Amy Holden Jones via a personal message.
Tema Staig, Executive Director of Women in Media states, "This year, we found our power through telling our stories of assault and normalized gender discrimination. The only thing shocking about these stories was that anyone was shocked. The only thing that actually surprised most women is that people were finally LISTENING. I'm very proud of the work Women in Media has done to forward inclusion in the crew. Since our first event in 2010, we've been supporting women and folks who believe in balance on set with networking events, technical classes, panels, and screenings of films by women directors of historical significance. Women in our industry have to be twice as good to get half the respect. We are held to a different standard and we are never allowed to fail. Yet another reason to honor these four women today. They are damn good at what they do."
While toasting Germaine Franco, Charlene Huang stated, "Germaine is a powerhouse revolutionary leading the charge and changing the paradigm for women in our field and doing so with so much grace and humility and appreciation for everyone involved, which I find to be rare in this industry." Germaine Franco is a Composer known for her work on Coco (2017), Dope (2015), and Kung Fu Panda 3 (2016). She is the first Latina composer invited to join the Academy of Motion Pictures Arts and Sciences, music branch and also the first female composer to be hired by DreamWorks Animation.
On seeing change in this industry, Germaine stated, "Never give up. If you can't find a way in, make your own art, make your own movies. Do something on your own if somebody else isn't giving you a seat at the table. The change I've seen is people's expressing their frustration, but I really hope that someday everybody that wants to get into this creative field, gets an equal chance. I'd like to mention women of color, less than 2% in our field (as Composers) and so one reason I came to this organization is when I first came(to a WiM meeting), I looked around the room. United Nations all over it." Kimberley Browning also noted, "When she (Tema Staig) started this organization (WiM), she and I had been making movies for a very, very long time, and it just has made such a difference for so many people."
Nancy Schreiber is a Cinematographer known for her work on Better Things (2016), Your Friends and Neighbors (1998), and The Comeback (2005). She has recently finished Cinematography on a film called Mapplethorpe based on the life of photographer Robert Mapplethorpe from his rise to fame to his untimely death. During the event, Nancy said, "I was always hiring women AC's and I just never realized it was raising some eyebrows but I just did it and didn't know I couldn't do it."
Kira Kelly is a Cinematographer known for her work on 13th (2016), Queen Sugar (2016), and East Los High (2013). She is on American Cinematographer's list named 2017 Rising Stars of Cinematography and Variety's Top Cinematographers to Watch. When asked about the changes she has seen in the industry lately, Kira stated, "I think it's women supporting women. What Ava (DuVernay) does is this mandate of hiring women…women who would not necessarily get a job before, but who still have to be very good at their job and what they do, and they are, but this idea of supporting one another is one of the key things."
"There's a great number of ways to generate your own work now. I never could wait for somebody to hire me and it never did happen. You can make a feature film on a phone now. You just have to start doing it," says Screenwriter, Producer, and Director Amy Holden Jones. She is known for her work on Mystic Pizza (1988), Beethoven (1992), and Indecent Proposal (1993). She is currently serving as Executive Producer and Writer for the new television show The Resident premiering in January 2018.
Women In Media is a 501(c)(3) that encourages gender balance in film and entertainment industries by providing networking, professional development, and advocacy for above and below the line women and all genders who love making movies with them. Women In Media is an intersectional group of women and woman identifying crew members in the film, television, and new media industries. They are known for their female crew list. For more information on Women In Media, please go to http://www.womennmedia.com.