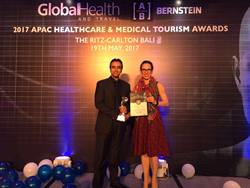 "We are Thrilled and honored to receive another International Reward..."
DUBAI, United Arab Emirates (PRWEB) December 22, 2017
Imperial Healthcare Institute, a Dubai Health Care City -based hospital known for excellence in eye care, is announced the winner of the Global Health awards 2017 as "Ophthalmology Service Provider of the year." The award was received by Prof. Dr Vinod Gauba, The Founder and the Medical Director. Commenting on the accolade, Prof. Dr Gauba said, "We are thrilled and honored to receive another International Reward. We have been in the region for 40 years. As a center of Excellence in Ophthalmology, we are having the privilege of representing Dubai and the Middle East in these rewards. This reward is a testament to our diligent, ethical and uncompromising approach to providing the highest standard of eye care available. Furthermore, this reward is important step for the Asian Market to start recognizing Dubai as an upcoming player in the Medical Tourism Field."
Prof Dr. Gauba added, "We believe at Imperial Healthcare Institute, with the 'dare to be first' philosophy, as well as through our quality-focused attitude and dual persistence, Imperial Healthcare Institute will provide the impetus for a completely new paradigm in the Health-care industry not only in the Middle East but globally, likewise." Imperial Healthcare is recognized for its comprehensive Ophthalmology Treatment protocol along with some pioneering techniques such as SupraLASIK™ the unique non-surgical solution to vision correction and the SuperLIFT, the noninvasive procedure to achieve the same results of the blepharoplasty surgery.