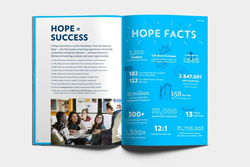 CHICAGO (PRWEB) December 21, 2017
2017 was a year of great success for education clients of digital-first agency, mStoner, Inc. Nine colleges and universities won 14 awards from five national award-presenting organizations. mStoner's digital strategy and creative work drove meaningful and measurable results for clients: increased admission inquiries and applications, engaging and impactful storytelling, broader brand awareness, and elevated institutional pride.
Of the award-winners, Hope College is a standout due to the multiple enrollment marketing print pieces considered for its award win. When it comes to recruitment, Hope College knows the type of student they want to attract. However, they needed sophisticated and authentic print and digital collateral. That's where mStoner came in, with final products including: a new communications plan, viewbook and other print pieces, email templates, videos, and an acceptance gift box. Hope College received a University & College Designer Association (UCDA) Award for Excellence in an Integrated Campaign. The final strategy, design, and deliverables constitute a complete system that Hope can replicate and build on year after year.
"mStoner equipped us with the collateral and assets, but the whole process has also strengthened us as a team and built collaboration and creativity," said Jennifer Fellinger, vice president, public affairs & marketing at Hope College. "Ideas and creativity are really flowing and we've become more strategic — even in things that mStoner was not specifically involved in. I'm confident we would not have gotten there without going through mStoner's process. They've walked alongside of us and made us more functional. We went from a place of low trust to high trust, from low energy to high energy and high inspiration."
mStoner's 2017 award-winning websites include:
Saint Louis University
Tulane University
Rush University
Wheaton College
St. John Fisher College
University of Rochester, School of Nursing
Johnson & Wales University
Mills College
See a complete list of 2017 accolades at http://www.mstoner.com/2017awards
mStoner, Inc. is a digital-first agency committed to tailored solutions that deliver real results. We craft powerful, tailored, human-centric experiences to illuminate your brand and allow you to tell the story only you can tell. We connect you with the right audience at the right time so you can form right-fit relationships. We position your team for improved productivity, sustainable growth, internal alignment, and proof-positive success. And we aim to make your job fun again and help you create inspired work that you are proud to show off. Since 2001, we've worked with more than 350 colleges, universities, and professional schools in the U.S. and abroad. For much more, visit our website at mStoner.com.