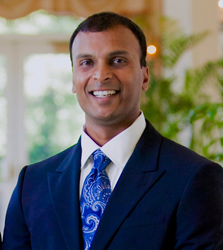 "I'm very excited to bring this concept to the D.C. market," says Nagula. "I know we have the high-end luxury demographic to support it, and once you try it, there's no doubt you'll be back."
WASHINGTON (PRWEB) December 20, 2017
The throbbing headache. The queasy stomach. The dry mouth. For those dreading the thought of kicking off 2018 experiencing these common hangover symptoms, take note: The I.V. Doc,TM the high-end I.V. hydration therapy used by A-listers to combat the after-effects of indulging, will be available in the Greater Washington metro area starting January 1.
It's no coincidence that Dr. Diva Nagula, a board-certified physician in both physical medicine and rehabilitation and pain medicine, chose New Year's Day as the launch date for The I.V. Doc. His first experience with I.V. hydration therapy came on the heels of a post-New Year's Eve hangover, when he booked a nurse to come to his Las Vegas hotel room for the treatment. "At the end of the treatment, I felt totally normal," says Dr. Nagula. Today, the satisfied client is now the owner of the newest The I.V. Doc business, which brings its luxury concierge services to the Washington metro area for the first time.
For those not familiar with I.V. hydration therapy, celebs like Kim Kardashian and Kate Upton use it to prep for red carpet events. Neil Patrick Harris tweeted about it on New Year's Day 2015, when he brought The I.V. Doc to his "hangover party." The idea behind I.V. therapy is simple: it's faster and easier to absorb nutrients when they are injected directly into the bloodstream rather than passing through the digestive system.
And it's not just for those who overindulge. The I.V. Doc also offers services to cleanse, detox, refresh, revive and treat numerous ailments ranging from migraines and jet lag to food poisoning and even the flu—which is already showing up in patients throughout the metro area. Proponents even use it to prehydrate before a night out on the town, a long flight or extended physical activity such as running a marathon.
Effective immediately, The I.V. Doc is accepting bookings for New Year's Day and subsequent weekend appointment for individuals and groups in the Washington area. Same day service is also available. Simply go to TheIVDoc.com, select a location and choose the desired service. Dr. Nagula will screen each patient before confirming the appointment. A fully licensed and insured nurse will arrive at an individual's home, hotel room or private office to deliver the treatment, which typically takes 30 to 45 minutes.
The I.V. Doc is also currently recruiting infusion nurses to work four-hour shifts. Interested candidates can email dcmetro(at)theivdoc(dot)com for more information.
"I'm very excited to bring this concept to the D.C. market," says Nagula. "I know we have the high-end luxury demographic to support it, and once you try it, there's no doubt you'll be back."
For more information or to book a New Year's Day appointment, visit http://www.theivdoc.com. You can also follow TheIVDoctor on Facebook, Twitter, Instagram and Google+.
About The I.V. Doc – http://www.theivdoc.com
The I.V. Doc is a completely mobile service that contracts with experienced and trusted medical teams across the country to provide I.V. (intravenous) hydration therapy in the comfort and privacy of your own home, hotel or private office, with the goal of providing relief from hangover, flu, jet lag, exercise fatigue, food poisoning, general exhaustion and more.
Our mission is to improve how you feel by alleviating the cumulative effects of dehydration, restoring you to vitality and wellness. The therapies provided by The I.V. Doc are time-tested and proven in hospital emergency rooms, now made easily accessible and affordable by licensed and experienced physicians, registered nurses and medical professionals.