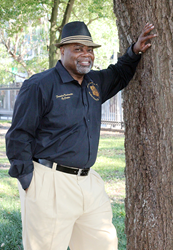 "Swing dance and music is more than just about partying and having a good time. It is the heart and soul of who we are as a people. It is the legacy of our ancestors. It is the link between our past and our future, the connection to our native land and our home land."
NEW ORLEANS (PRWEB) December 22, 2017
Meet the World Image Solutions client Oz "The Dance Doctor" Cooper, founder and lead instructor of the Who Dat Steppers of New Orleans, are about to take celebrating Black History Month to another level with their 2nd Annual Steppin N2 History with Carter G. Woodson event, Feb. 16-18, 2018 at the Wyndham Garden New Orleans Airport Hotel in Metairie.
Steppin' N2 History will not only focus on the father of Black History Month, Dr. Carter G. Woodson, but will also celebrate New Orleans music, dance and culture with dance workshops, parties, and, of course, food.
Cooper, a Navy veteran and New Orleans native, teaches urban swing dancing twice a week for the New Orleans Recreation Department as part of NORD's goal of making New Orleans one of the nation's fittest cities. He takes this goal further by combining culture and history into his dance lessons, all of which he says evolve from classic dances such as the Lyndy Hop.
"Swing dance and music is more than just about partying and having a good time," explained The Dance Doctor, who has been teaching urban swing dance in New Orleans since 2011. "It is the heart and soul of who we are as a people. It is the legacy of our ancestors. It is the link between our past and our future, the connection to our native land and our home land."
Steppin' N2 History is open to dancers of all levels and ability. The weekend will begin with a meet and greet dance Friday night, followed by five workshops, a main event dance and dinner Saturday, and a farewell dance Sunday afternoon. The workshops will cover urban swing dances taught by instructors from the Gulf Coast Region. Drewry Alexander, of Smooth-Tivity Production, Houston will teach Chicago Steppin; Jay Owens, of Flo-Motion Dance Association, Houston will teach Houston 2 Step; LaDell Headroe of Smooth Flava Entertainment, Houston will teach Dallas Fort Worth Swing; Arthur Corbin of Everlasting Dance, Houston will teach Zydeco; and The Dance Doctor will teach Detroit Ballroom.
Cooper plans to make history and culture the central focus of all of his events while still keeping them fun and entertaining. Most recently, the Who Dat Steppers partnered with the Congo Square Preservation Society to celebrate the 20th anniversary of the official naming, designation and dedication of Congo Square during their Steppin' at Congo Square event, Nov. 24-25, 2017.
Weekend pass packages are available at the holiday price of $65, and will increase to $75 after Dec. 31, 2017, and $85 after Jan. 31, 2018. A limited number of discounted hotel rooms at the Wyndham are also available. For more information on Steppin' N2 History and the Who Dat Steppers, visit https://www.facebook.com/WhoDatSteppersNOLA/ or contact Cooper at (504) 564-6941.