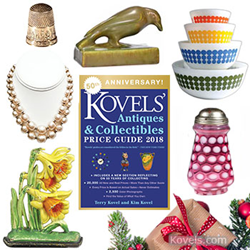 CLEVELAND (PRWEB) December 21, 2017
For shoppers who are looking for that last-minute Christmas gift for a collector, there is still time. The Kovels have scoured the pages of Kovels On Antiques & Collectibles newsletter to come up with 7 helpful gift ideas, all popular in 2017, that antiques lovers would love to receive.
1. Pyrex bowls
Vintage Pyrex dishes are current collector favorites to use or to display. They have even been featured in decorating magazines. In 1947, Corning created a set of nesting mixing bowls with four different colored bowls. Soon there were hundreds of designs on all kinds of bakeware and dinnerware. Most vintage Pyrex pieces sell for under $100 and can be found in vintage shops, flea markets and house sales. The set pictured here is called "New Dots" and costs $175 to $250 in online shops.
2. Doorstop
Who wouldn't love a heavy, decorative cast-iron doorstop? They just don't make some things like they used to. Figural cast-iron doorstops come in many forms—from animals and flowers to buildings and fictional characters. They sell from under $100 to over $10,000. Look for full-figured doorstops with original paint. Stay away from grainy cast surfaces, irregular joints and sloppy paint. A doorstop made in the early 1900s by Hubley Manufacturing Co. features a trio of jonquils. It sold at auction this year for $360.
3. Sugar shaker
Treat the sweets-lover on your list to a colorful glass sugar shaker. They'll smile every time they sprinkle cinnamon sugar on their toast. Sugar shakers were a common sight on Victorian tables. Filled with sugar or spices, they were part of sets that included salt and pepper shakers, mustard jars, cruets and toothpick holders. Found at flea markets and glass auctions, many are available for reasonable prices, like the cranberry opalescent coin spot shaker that sold for $164.
4. Anything Rookwood
Rookwood pottery has been popular for over 100 years and their large, important pieces sell for thousands of dollars. But they also made small and useful pieces that are sometimes overlooked. Figural ashtrays (think candy dish!), paperweights, bookends, or pencil holders are all useful items that would add color and whimsy to a room. A 1936 Rookwood paperweight with green and brown matte glaze sold for $200.
5. Sewing Collectibles
Looking for a gift for someone who does needlework? Antique wooden spool holders, figural pin cushions and clamps can be found at flea markets. They're appreciated for their unique designs and are as useful today as they were 100 years ago. A little c.1900 thimble is 14K gold, decorated with diamonds and dots, and has a band of engraved buildings with steeples. It auctioned for $129.
6. Costume jewelry
The stones may not be precious, but costume jewelry is still pretty. Designer-signed pieces can sell as high as fine jewelry made of gold and silver, but it's still possible to buy glamorous well-designed pieces without high prices. A vintage necklace is a double strand of fake baroque pearls with a flower clasp with seed pearls. It's 17-inches long, marked Miriam Haskell, and sold for $254.
7. Best of all, give the best price book for collectors, the 50th Anniversary edition of Kovels' Antiques & Collectibles Price Guide. In addition to 20,000 all new prices and 2,500 photographs, Kovels' 2018 Price Guide includes a special section, "Reflecting on 50 years of Collecting," a timeline that chronicles major events that changed the antiques market through the expert eyes of Terry Kovel. It includes record prices, trends, surprises, and clever fakes.
And one last suggestion: Put a dollar bill in the package with any gift you give, along with a reminder that the bill makes a perfect 6-inch ruler to use when you're looking to buy.
Terry Kovel is America's foremost authority on antiques and collectibles. She is the well-known columnist and author of more than 100 books on antiques and collecting. The all-new 50th anniversary edition of Kovels' Antiques & Collectibles Price Guide is currently available at Kovelsonlinestore.com and local bookstores. Terry Kovel will discuss antiques and collectibles topics with accredited media. Photographs are available. Contact pr(at)kovels(dot)com.
About Kovels.com
Kovels.com, created by Terry Kovel and her daughter, Kim Kovel, provides collectors and researchers with up-to-date and accurate information on antiques and collectibles. The company was founded in 1953 by Terry Kovel and her late husband, Ralph. Since then, the Kovels have written some of America's most popular books and articles about antiques, including the best-selling annual Kovels' Antiques & Collectibles Price Guide, now available in its 50th edition. The website, Kovels.com, online since 1998, offers more than a million free prices, and includes a free weekly email, "Kovels Komments." It gives readers a bird's-eye view of the market through the latest news, auction reports, a Marks Dictionary, readers' questions and answers and much more.
Contact Information:
Liz Lillis
216.752.2252
Pr(at)kovels(dot)com