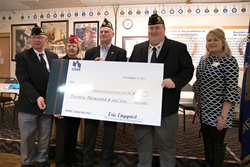 "The generous donation from USAA will help Post 57 continue to serve as a destination for discussion about veterans' issues and interests, and be a beacon of camaraderie among those who have served in uniform."
VINTON, Iowa (PRWEB) December 21, 2017
The American Legion and USAA hosted a ceremony on Tuesday, Dec. 19, to honor Iowa veterans and those currently serving, for their dedication and commitment to community, state and nation. During the event, Post 57 Adjutant Brad Anderson was announced as the winner of the Salute Your Post Giveaway.
Sponsored by USAA, the Salute Your Post Giveaway was free to enter and open to American Legion post members across the country. American Legion National Commander Denise Rohan spoke about the importance of the organization's 12,875 posts and commended Anderson for his support of giving back to the local veteran community.
"Local posts are gathering places that unite veterans from all branches of service as a community," Rohan said. "The generous donation from USAA will help Post 57 continue to serve as a destination for discussion about veterans' issues and interests, and be a beacon of camaraderie among those who have served in uniform."
"The members of Post 57 will determine how to use the $20,000 prize," Anderson said. "We'll likely use it for some building repairs and also possibly as a donation toward events planned around the upcoming 100th anniversary of The American Legion."
Post 57 was chartered in 1919 and currently has approximately 180 members. The post is active in the Vinton community and regularly sponsors delegates to the Iowa Hawkeye Boys State program.
About The American Legion
The American Legion is the largest wartime veterans service organization with nearly 2 million members in 12,875 posts across the nation. Chartered by Congress in 1919, The American Legion is committed to mentoring youth and sponsoring wholesome community programs, advocating patriotism and honor, promoting a strong national security, and continued devotion to servicemembers and veterans.