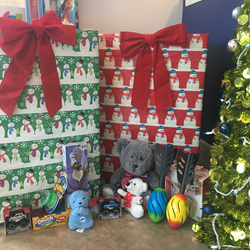 We are a local business that understands the importance of giving back to those who need it most. The KID Inc holiday toy drive is the perfect opportunity to get the entire community involved in donating toys to provide local children in need with gifts for the holiday season. - Tommy Smith
FORT LAUDERDALE, Fla. (PRWEB) December 21, 2017
All Year Cooling, a local South Florida air conditioning company, is continuing their dedication to their community by hosting their annual Toy Drive. For the first three weeks of December, All Year Cooling has designated their office as a drop-off location for children's toys that will be donated to the Broward and Palm Beach County Kids in Distress (KID) holiday toy drive.
The KID Inc holiday toy drive benefits many children and families in Fort Lauderdale every year. Each toy All Year Cooling collects will be donated to the drive and will be dispersed amongst various families throughout the community through KID Inc. All Year Cooling has asked its team members, customers, family, and friends to donate new, unwrapped toys and bring them into their Fort Lauderdale office.
In addition to the 2017 KID Inc holiday toy drive, All Year Cooling is running a promotion through December 23 that allows any customer that donates a gift to receive $100 off their air conditioning estimate. All Year Cooling hopes this encourages customers to donate toys to those in need.
All Year Cooling's President, Tommy Smith, has always held community service and helping others in the local community close to his heart. "We are a local business that understands the importance of giving back to those who need it most. The KID Inc holiday toy drive is the perfect opportunity to get the entire community involved in donating toys to provide local children in need with gifts for the holiday season," Smith said.
Kids In Distress of Broward and Palm Beach counties (KID) is a licensed, nationally accredited agency working for the prevention of child abuse, preservation of the family, and the treatment of abused and neglected children. From their beginnings as a small shelter in 1979, KID programs have expanded into a comprehensive continuum of care that fills the gaps and meets the needs of at-risk children and families in our community. Over the years, they have expanded their scope of service, built a campus, and created a working culture driven by compassion, trust, and safety. Today, KID boasts the 5-acre Leo Goodwin Foundation Campus in Broward County with a satellite office in Palm Beach County; community-based programs such as prevention, intervention, foster care, family counseling; and educational programs such as preschool and aftercare.
Established in 1973, All Year Cooling has completed over 150,000 air conditioner installations in South Florida. Their goal is to provide the consumer with the best overall value and service on new air conditioner installations, maintenance, and repairs. As a family-owned business, Tommy Smith along with his team makes it their mission to provide quality service and remain a trusted part of the South Florida community for their HVAC needs.
To learn more about All Year Cooling's involvement in the South Florida community, click here.