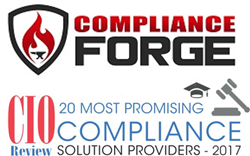 There is no such thing a 'bronze, silver or gold' level of compliance, since a standard is a standard for a reason.
TUALATIN, Ore. (PRWEB) December 21, 2017
ComplianceForge, a solution provider of cybersecurity and privacy compliance documentation, announced today that it is on CIOReview magazine's 2017 "Top 20" list of Most Promising Compliance Solution Providers. This award is based on feedback from business leaders across multiple industries to identify innovative and effective compliance solution providers that have demonstrated excellence in:

Cybersecurity and privacy consulting;
Simplifying compliance-related documentation; and
Providing scalable and adaptive solutions for risk management, internal control and compliance.
This national award is further validation of ComplianceForge's innovative approach to providing businesses with cost-effective and scalable solutions. "ComplianceForge serves as a business accelerator, where we take care of the tedious and time-consuming work that is associated with generating compliance-related cybersecurity documentation. Quite simply, our focus is to provide solutions to reduce the time, cost and complexity for businesses to meet their cybersecurity and privacy needs," says Tom Cornelius, senior partner and co-founder at ComplianceForge.
The vision at ComplianceForge is based on the core understanding of the necessity for businesses of all sizes and industries to adopt secure practices to protect their interests, including their customers, employees, and partners.
"There is no such thing a 'bronze, silver or gold' level of compliance, since a standard is a standard for a reason. That is the premise ComplianceForge follows in developing its documentation products to help their customers have the needed evidence of due care and due diligence for their compliance needs. We focus on writing cybersecurity documentation so that our customers can focus on what they do best - growing their business!" says Cornelius. This compliance-focused approach to cybersecurity documentation also means their solutions can scale for any sized business, since it is focused on leading industry practices. As evidence of their products' ability to scale, their clients range from the Fortune 500 down to small businesses. This has led to the inside joke within the company that "ComplianceForge is 'corporate America's dirty little secret,' since well-known brands use our products and understandably, no company wants to admit that their cybersecurity program documentation was written by an outside firm," says Cornelius.
About ComplianceForge
ComplianceForge is a specialist within the cybersecurity profession, with a focus is on Governance, Risk and Compliance (GRC). ComplianceForge is a Veteran-Owned Small Business (VOSB) that has been crafting leading-edge cybersecurity documentation since 2005. Their unique solutions help companies document their cybersecurity governance programs to comply with requirements such as NIST 800-171, DFARS, FAR, EU GDPR, HIPAA and PCI DSS. ComplianceForge customers include many Fortune 500 companies within the aerospace, defense, financial and manufacturing industries.