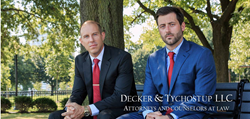 We're excited about the experience, reputation, and resources Myles is bringing with him to this Firm.
BALTIMORE (PRWEB) December 22, 2017
The Law Firm of Decker and Tychostup, a leading Criminal Defense and Civil Litigation practice, today announced a new location in the Dundalk area of Baltimore County. The new location, at 1001 North Point Blvd, Ste 506 Baltimore, Maryland 21224 will be the company's first office outside of its Headquarter Location in Baltimore City and will become home to a growing team of professionals.
According to Managing Partner, Mr. Terrence Decker, the expansion has been planned for some time. "This location allows us to serve Baltimore County and City residents including clients in the Dundalk, Middle River, Essex, White Marsh, Perry Hall, and Parkville, areas." The new location is a strategic move that will allow the Firm to have a physical presence in North East Baltimore, expanding legal representation and reach to tens of thousands more Maryland residents.
"Our approach is effective in helping clients protect their rights," says Mr. Decker. "Our Criminal Defense, and Civil Litigation practice areas aggressively represent the rights of our clients which makes us stand out among other Baltimore area Firms."
In addition to the new location, Decker and Tychostup are welcoming veteran attorney Myles Friedman. According to Mr. Tychostup, "We're excited about the experience, reputation, and resources Myles is bringing with him to this Firm. Mr. Friedman is a long practicing Dundalk attorney with deep roots into the local community and surrounding areas. He is certainly a great asset and we're delighted he's on our team."
About Decker, Tychostup, and Friedman Law
Visit http://www.dtlawmd.com/
At Decker, Tychostup & Friedman, LLC, we are committed to providing exceptional representation to clients facing an array of legal issues. We believe that zealous representation applies to all of our clients, whether they have been charged with a serious crime, have been injured in an auto accident or in a slip and fall, or are facing stressful family law issues. We excel in representing individuals confronting the vast power of the government and law enforcement in criminal defense matters and with high stakes at risk in civil lawsuits. We are dedicated to assisting those in the darkest hour of their lives, facing the possibility of losing family, fortune, freedom or even life itself.
About The Growth Coach of Greater Baltimore:
Visit http://www.growthcoachgreaterbaltimore.com
The Growth Coach of Greater Baltimore is a leading provider of Business & Executive Coaching, and Consulting & Sales Training. Programs assist companies with business process efficiency, and improve visibility, accountability, long range planning, and business development strategies. The Growth Coach of Greater Baltimore's flagship program, Strategic Mindset, combines Business Strategy and Planning, Team Development, Marketing, Business Development assistance, and advisory services.