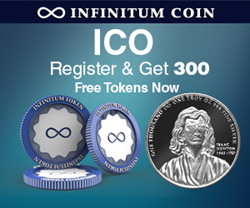 Giving 300 Free Coin Tokens makes it fair for everyone, not just the coin miners.
Dubai (PRWEB) December 23, 2017
InfintumBitcoins.com announced their plans for the InfinitumCoin.com ICO in September. Now the ICO is inviting the public to join the white-list and obtain 300 free tokens, potential worth $450.
The approach is as unique as the ICO itself which contains a new digital currency and a physical coin. Giving away discounted tokens is widespread practice but Infinitum Coin is giving completely free tokens with no obligation, which has never been done before, has been described as Free Pre-ICO event.
When asked about this approach Alec Johns said "Infinitum Coin is a new digital currency it not a commodity, its not a security, its is like Bitcoin, Ether, Litecoin and other digital currencies. The issues with digital currencies is that they are mined, and miners receive the currency as a reward for solving complex problems. At the beginning these problems where easy to solve and miners could use their home pc to get free coins. When we first looked at our currency we where thinking along a similar path, however given the environmental issues of bitcoin mining and the technical skill involved it simply does not work for ordinary people who may lack the knowledge required in setting up a mining platform. So, we decided to give everyone a fair chance at getting free coin tokens."
There is some minor work in sharing on Facebook and twitter and for doing 300 Coin Tokens will be added into your account. Just so we are clear 300 tokens at the end of the ICO will be $450.00 with each coin's worth at $1.50
The tokens will be converted to Infinitum Coin digital currency which is based on version of the Bitcoin Blockchain complete with a secure wallet to store the coins. Infinitum also plans to get the coin listed on crypto exchanges allowing the market forces to takeover.
The ICO itself features a 1 Ounce Pure Silver Coin which contains 1000 Infinitum Coin Tokens and the Infinitum Coin digital currency, customer and choose purchase either one or both.
You can get your free tokens now, it will make for nice Christmas or New Year gift for yourself.
Find out more about the ICO and get your free tokens visit the company website https://infinitumcoin.com/
Infinitum Coin is new digital currency from infinitumbitcoins.com the company that has been making physical bitcoins since 2015.