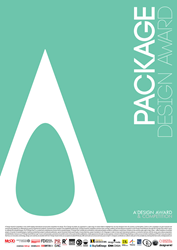 Como, Italy (PRWEB) December 21, 2017
The A' Packaging Design Awards is organised yearly by A' Design Award and Competition in pursuit of recognising excellent packaging designs for products that were proposed and completed within the last 10 years. Each year, A' Packaging Design Competition features a reputable jury panel of specialist in packaging design, branding, and consumer products to evaluate projects submitted to A' Design Award.
The first phase of A' International Packaging Design Awards is the preliminary round where designers submit their works for preliminary evaluation. Packaging design projects that have received a high preliminary score in the preliminaries can proceed with nomination. While the registration and submitting a design for the preliminaries is free of charge, there is a fee for nominating entries for the finals.
This year submissions to the International A' Packaging Design Awards could be made in several sub-categories such as Solid or Dry Food Packaging, Alcoholic and Non-Alcoholic Beverage Packaging, Packaging for Cosmetics and Hygiene Products, Medication and Pharmaceutical Goods Packaging, Promotional Packaging, Greetings and Packaging of Other Goods. Entries are accepted for both three dimensional packaging designs where packaging designers design the form of the object as well as two dimensional packaging designs where graphic designers work on new graphic and communication designs for existing packaging forms.
Deadline for late submissions is on February 28, 2018. All packaging design project should be submitted by this date, however further modifications could be made within seven (7) days of entry. Results will be announced on April 15, 2018 through a wide network of design oriented publications and media partners. For more information on packaging design category and its submission requirements, please check submission guidelines and last year winners at https://competition.adesignaward.com/competitions/packagingdesign.html
About the A' Packaging Design Awards
A' Packaging Design Awards, organised yearly by the A' Design Award and Competition, was established in order to create awareness for innovative, original and sustainable packaging designs that create a positive impact on our environment by identifying and endorsing excellent packaging design projects from distinguished designers worldwide. A' Packaging Design Awards is greatly committed to the idea of supporting creativity and competence in packaging design by advertising best design projects worldwide throughout a wide network of media partners. To learn more about the A' Packaging Design Awards please visit http://www.designaward.com