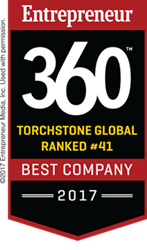 TorchStone is rooted in the principles of care and respect for our clients and our people; on those core beliefs we have never wavered.
New York, NY (PRWEB) December 21, 2017
TorchStone Global, a strategic security advisory firm, has been recognized as one of the "Best Entrepreneurial Companies in America" by Entrepreneur magazine. The magazine's Entrepreneur360™ List celebrates the best private companies in the United States and is developed from a comprehensive study designed to provide a multidimensional view of entrepreneurship today. Based on the study's analysis TorchStone was recognized for being a well-rounded company that has mastered a balance of impact, innovation, growth and leadership.
"TorchStone is rooted in the principles of care and respect for our clients and our people; on those core beliefs we have never wavered," said Frank Rodman, President of TorchStone. "However, entrepreneurship is a complex endeavor that requires equal energy be paid to the important business processes and developing infrastructure of a growing company. After all, to do right by our clients and team members these underpinnings must be sound. We are very proud of this public recognition of those efforts."
Honorees were identified based on the results of a comprehensive study of independently-owned companies that utilized a proprietary scoring algorithm and other advanced analytics. The algorithm was designed to measure four key metrics reflecting the major pillars of entrepreneurship—innovation, growth, leadership and impact. Based on this system TorchStone was ranked #41 of the 360 companies that ultimately received the honor.
"Our annual evaluation is a 360-degree analysis of top privately-held companies representing and serving a variety of industries," explains Lisa Murray, Chief Insights Officer of Entrepreneur Media, Inc. "These businesses are real-world case studies for any entrepreneur who seeks to master the four pillars that can greatly impact the longevity and growth of their businesses. With the Entrepreneur 360, success is measured by achieving balance throughout the entire organization, predicated by revenue."
The recognition from Entrepreneur magazine is the continuation of a trend for TorchStone. According to TorchStone co-founder David Niccolini, "This is our second major recognition in 2017 and we've had the good fortune to be short listed for several major security awards in early 2018. We embrace creativity and employee empowerment, and this recognition reflects what can happen when you attract good people and put them in the position to succeed. It is a very exciting time for us."
For additional details on the E360 List and the companies recognized, visit: http://www.entrepreneur.com/360
###
ABOUT TORCHSTONE
TorchStone Global is a strategic security advisory firm uniquely focused on crafting tailored risk management solutions for affluent families, multi-national corporations, and high-profile sporting events around the globe. The firm was co-founded by an individual steeped in high net worth family security, and seven years later that focus remains critical to the firm's success. In fact, over that brief time period TorchStone has been engaged by more than 6% of the Forbes 400, as well as an array of high profile executives, entertainers, and athletes. The TorchStone mantra, The Business of Before®, speaks to its proactive posture and tailored white glove solutions designed to reduce risk before something bad happens. Additionally, the TorchStone team takes into account the unique needs of its clients to ensure that it has addressed any identified problems practically, without going beyond what is sensible. For more information, please visit: http://www.TorchStoneGlobal.com.
ABOUT ENTREPRENEUR MEDIA INC.
For nearly 40 years, Entrepreneur Media Inc. has been serving the entrepreneurial community providing comprehensive coverage of business and personal success through original content and events. Entrepreneur magazine, Entrepreneur.com, and publishing imprint Entrepreneur Press provide solutions, information, inspiration and education read by millions of entrepreneurs and small business owners worldwide.