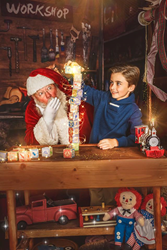 Building Toys With Santa In His Workshop!
LONG ISLAND, N.Y. (PRWEB) December 22, 2017
The wonderful spirit of the holidays has spilled over from Storybook Experiences! The have just announced the opening of their second location in Rockville Centre, Nassau County. The Storybook Santa Experience, with sold-out sessions of holiday magic and stunning family photography, has welcomed a new flock of wide-eyed youngsters and their awe-struck parents to Nassau County and Brooklyn, Queens, Staten Island, New York City, Connecticut, New Jersey and beyond.
Now, both counties of Long Island have a chance to bring their children to Santa and bring home the memories of their fun and frolic with the Jolly Old Man, thanks to family photographer Kristen Pitre and real-life characters who interact with the kids.
Unlike any other holiday experience, the presence of Santa and his elves recreate the warm feelings of a Norman Rockwell painting. The Storybook Experience team provides the ultimate family environment encouraging children to play and interact with Santa like never before, while capturing memories that will last a lifetime.
Parents have loved the Santa Experience as much as the children:
"Thank you for putting the magic back into Christmas pictures. I'm not sure who was more in awe, us parents or the kids. Santa and the elf photographers were amazing. Thank you."

The Storybook Santa Experience is one of many put on by Kristen Greg and their Storybook team. There are other, equally exciting, Storybook Experiences, and all of them offer opportunities for stunning family photos of children interacting with legendary characters. With ever-changing sets and story-lines, parents can count on new adventures and experiences every season of every year.
The Santa Experience 2017 usually sells out a whole year in advance! Make sure to add yourself to their early notification list HERE
Check out the company's Facebook page or read more reviews.
FOR MORE INFORMATION
Contact: Greg Pitre
Suffolk address: 475 Montauk Highway, West Islip NY, 11795
Nassau address: 85 Rockaway Ave, Rockville Centre NY, 11570
Phone number: 631-888-6060
Email: gregory@storybookexperiences.com
Website: https://www.facebook.com/StorybookExperiences/