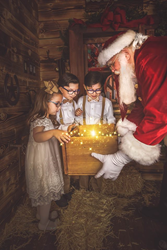 One of Kind Interactive Photography The Is Sure To Amaze
WEST ISLIP, N.Y. (PRWEB) December 22, 2017
Kristen and Greg Pitre have been creating the perfect Christmas experience for families on Long Island since 2014. Through their Storybook Experiences studios, this couple recreates Christmas fantasies in an annual event dubbed 'Santa Experience'. The event attracts families from all over Long Island, new York, Connecticut, New Jersey and more and has quickly become the Christmas tradition destination.
This year, families have an opportunity to create and experience beautiful Christmas memoirs. Unlike the modern way of celebrating Christmas, they have an actual chance to relive their Christmas fantasies and create special albums for them.
Through their Santa Experience hosted every year, no two years are the same thanks to the new features awaiting families who eagerly make the journey for the Storybook Santa Experience. What started as a family-owned business has expanded to a fully-booked experiences that has gained both local and international media coverage.
Each year, the Storybook Santa Experience aspires to be more phenomenal than its predecessor. Bookings for their santa Experience sell out by the thousands a full year in advance! Every year, the Storybooks team introduces new sets and scenes leaving even their previous clients wowed. The 2017 Santa Experience introduces new features to the event that have not been showcased before.
"We have all new sets, storylines and scenes, we always incorporate new things each year so families that come back year after year do not know what to expect," says Pitre. The experiences take place at their two Storybook studios in West Islip and Rockville Centre. The most exciting thing about the Santa Experience is that you cannot be sure of what to expect. It is such an amazing one of a kind experience. Families that booked their experience can attest to its magical experience every time they walk in through the studios.
For more information about the Storybook Experience, you can visit their Facebook page or website. Visit their Santa page here you will find details of their sessions, bookings and venues.