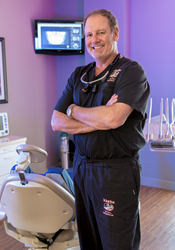 MT. PLEASANT, S.C. (PRWEB) December 22, 2017
Respected general dentist, Dr. Kevin Hogan, recently completed his certification to provide the orthodontic treatment known as Invisalign®. Mt. Pleasant, SC patients seeking an alternative to traditional braces may be candidates for the clear orthodontic solution, which straightens teeth using plastic aligner trays opposed to a metal bracket-and-wire system. Placing strong emphasis on helping patients achieve excellent oral health through comfortable, convenient care, Dr. Hogan and his experienced team understand the benefits straight teeth provide and offer modern orthodontic treatments to meet a variety of dental needs.
Invisalign is a no-metal advanced orthodontic system that repositions teeth through a series of custom-made clear plastic aligners. Each set of aligners is worn for approximately one to two weeks, and easily removed for eating, brushing and flossing activities. Invisalign is highly regarded as a discreet, more comfortable alternative to wearing conventional metal braces. Similar to traditional bracket and archwire systems, Invisalign treats a number of oral concerns, including crooked teeth, misaligned bite and unwanted spacing between teeth, among others.
Orthodontic treatment delivers both cosmetic and functional benefits to the smile. Many patients who undergo orthodontic care with braces experience better biting function, enhanced smile esthetics, improved self-confidence and reduced incidence of oral disease. Dr. Hogan is pleased to not only deliver convenient, comfortable dental services, but also offer traditional orthodontics and Invisalign to Mt. Pleasant, SC patients. He has a profound understanding of the health and wellness benefits of straight teeth, and remains dedicated to providing exceptional orthodontic and comprehensive care to all patients.
Individuals interested in learning about their candidacy for Invisalign in Mt. Pleasant, SC are encouraged to call 843-216-0908 to reserve a private braces consultation with Dr. Hogan, or visit his website at http://www.smilesbyhogan.com for further information.
About the Doctor
Dr. Kevin Hogan is a general dentist providing individualized care for patients in Mt. Pleasant, SC. Dr. Hogan is a graduate of the Indiana University School of Dentistry and has completed hundreds of hours of continuing education courses to stay contemporary with the latest dental technologies. In addition, he has also completed coursework with the Dental Organization for Conscious Sedation and has lectured at the University of North Carolina, Emory University, the Saginaw Valley University and AUA-American University of Antigua on head and neck anatomy and oral pathology. Dr. Hogan is a member of the American Dental Association, International College of Cranio-Mandibular Orthopedics, Academy of Laser Dentistry, International Association of Physiologic Aesthetics, Institute for Advanced Laser Dentistry, DOCS (the Dental Organization for Conscious Sedation), International Congress of Oral Implantologists and the South Carolina Dental Association. He is also a past member of the American Straight Wire Orthodontic Association, Maxillofacial Orthopedic Growth and Development, the American Academy of Pediatric Dentistry and the Functional Orthodontic Society. He and his team are dedicated to providing exceptional oral care to patients through personalized treatment plans. To learn more about the services offered by Dr. Hogan, please visit his website at http://www.smilesbyhogan.com or call 843-216-0908.