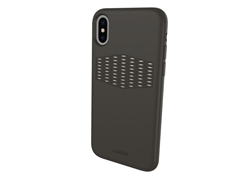 "Recently the CDPH shared recommendations on how users can protect themselves from cell phone radiation. We believe using an alara case is another meaningful step people can take to reduce their exposure to RF radiation," said Gentry Jensen, CEO of Penumbra Brands, Inc., the parent company of BRINK
SALT LAKE CITY (PRWEB) December 22, 2017
Today BRINK case, the case brand that utilizes antenna technology to enhance your phone and your life, is reminding the public that its alara case is the ideal solution for smartphone users concerned about the health effects of cell phone radiation. alara is the only case on the market designed to reduce cell phone radiation exposure without compromising a phone's performance or functionality.
On December 13th, 2017, CDPH (California Department of Public Health) issued a document that describes cell phone radiation, lists some of the potential health concerns, and provides guidance on how people can reduce their exposure. These guidelines include:

Keeping the phone away from the body
Reducing cell phone use when the signal is weak
Reducing the use of cell phones to stream audio or video, or to download or upload large files
Keeping the phone away from the bed at night
Removing headsets when not on a call
Avoiding products that claim to block radio frequency (RF) energy as these products may actually increase user exposure.
alara By BRINK CASE Can Help Too
Cell phones communicate by transmitting and receiving encoded signals comprised of RF energy. RF energy, a form of electromagnetic radiation commonly referred to as cell phone radiation, is unavoidable. Because it's not practical to eliminate cell phone radiation entirely, BRINK case has created alara to reduce cell phone radiation exposure to the level that is "as low as reasonably achievable."
"Recently the CDPH shared recommendations on how users can protect themselves from cell phone radiation. We believe using an alara case is another meaningful step people can take to reduce their exposure to RF radiation," said Gentry Jensen, CEO of Penumbra Brands, Inc., the parent company of BRINK case. "Multiple studies show the potential for an increased risk of brain cancer in heavy cell phone users and the World Health Organization classifies cell phone radiation as a 'possible human carcinogen.' alara was invented as a convenient solution to this very concern and its efficacy at reducing user exposure to RF radiation has been validated by independent third-party laboratory tests."
How It Works
alara cases contain a precision engineered, micro-thin, multi-patented antenna that automatically pairs with the antenna in the wireless device it is protecting to redirect radiation away from the user. alara does not shield or block RF—it redirects RF away from a user's head and body while maintaining the phone's signal strength and performance. It redirects but does not block or shield the signal as blocking will cause the phone to work harder and can actually increase exposure to cell phone radiation.
The benefits of alara are proven: results from rigorous lab testing, verified in an extensive, independent test by WIRED MAGAZINE show the alara case lowers radiation exposure by up to 67%.
Specifications

Phone Models Supported: alara is available for iPhone X, iPhone 8/8 Plus, and the Galaxy S8/S8+.
Designed to Protect: Drop-tested to U.S. Military standards, alara provides protection from falls up to 6'.
Affordable: Priced at $39.99 to $49.99.
Lab Tested: alara is rigorously tested in compliance with international cellphone radiation safety guidelines to protect both the phone and the person using it.
Availability
alara cases are available now here: https://www.brinkcase.com/?utm_source=PR&utm_medium=Signal%20Rock%20Communications&utm_campaign=Signal%20Rock%20Communications&utm_term=Signal%20Rock%20Communications&utm_content=1.
About BRINK case
BRINK case brings you cutting-edge technology to enhance your phone and your life. Our products are ideal for smartphone users who are looking to get more out of their device whether it's by improving signal strength, enhancing data transfer speeds, or protecting users from cellphone radiation.