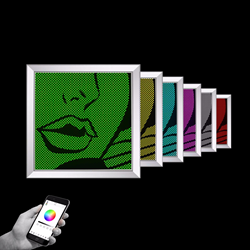 Never give up your dreams! Farah Barnes
District of Columbia (PRWEB) December 22, 2017
Come and visit smart Illumi Arts collection (New York, Paris and Milan) at the museum stores in Washington D.C., created by Farah Barnes.
Illumi Arts brings together the best of all worlds in interior design. The light fixtures are beautiful art pieces with unique color changing RGB LED lights to enhance any space using Bluetooth technology. Illumi Arts lighting fixtures are great for personalizing modern interiors for commercial, residential, institutional and hotels. The lighting collections come in standard square and custom sizes. The product is UL and CE listed for indoor (IP20) while under 2nd stage patent in the USA.
Benefits of the Illumi Arts including:
1. Innovative, exciting, and collectible products
2. Low profile, low voltage, energy-efficient at 11 Watts
3. Bluetooth technology for remote variety control (iPhone. iPad, and Android)
4. Brings light, art, and color to any space.
5. Cost-effective and eco-friendly: 50,000 life hours, maintenance-free except dusting
6. Changeable art panels or fixed panels
7. UL and CE certified for safety
Size: 324x324x20 (mm) - 12.7x12.7x0.78 (inch)
About US:
APV Inc. is a USA corporation located in Vienna, Virginia with a branch office in Washington D.C. APV (Architectural Lighting Design) came into existence about 23 years ago and has a record of success and achievement in museum exhibition design, custom light features, light designs and architecture. APV has won many prestigious National and International lighting awards. We collaborate as a team to produce innovative, cost effective and energy efficient lighting systems. APV strives to combine state of the art lighting technology with ongoing research and on-site analysis of traditional approaches toward energy conservation. APV applies time-honored methods of balancing the use of natural and artificial light in Architecture. Under the creative design and leadership of Farah Barnes, the APV team of lighting design professionals produce fully integrated quality and creative design solutions from the concept through to completion of each project.
Illumi Arts' Youtube Channel:
https://www.youtube.com/channel/UCk9dJiQZjAr5RtDxjSS7p-A?view_as=subscriber
Social Media:
https://www.instagram.com/illumi_arts/