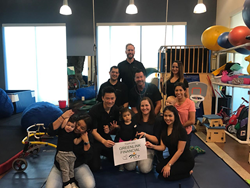 "We are very happy that we can give back to our community; working with these kids firsthand and seeing them smile makes this pledge even more significant." Eric Heller,GreenLink Financial CEO
IRVINE, Calif. (PRWEB) December 22, 2017
This week, UCP-OC welcomed GreenLink Financial to present Christmas gifts to the families and children of their In-Home Early Intervention Programs.
GreenLink Financial associates started in earnest, shopping three weeks ago in order to fulfill UCPOC's Wish List.
"Our company had a phenomenal year and we wanted to end it by giving something back to families who want to improve their quality of life," said Eric Heller, CEO of GreenLink Financial.
"We are very happy that we can give back to our community; working with these kids firsthand and seeing them smile makes this pledge even more significant."
This cause is very personal to Eric Heller as he too has family that has experienced health challenges.
One of Eric's favorite nephews is on the Autism spectrum and he has encouraged him all of his young life to achieve and exceed expectations. His nephew has never disappointed him and continues to thrive and give everyone much joy everyday.
"I care deeply about my nephew; I am like his second dad. Christmas is always his favorite time of the year. That's why this is more meaningful."
"I want to personally thank everyone in our company whose efforts put an extra smile on these kids, this Holiday season," said Heller.
UCPOC serves over 5,300 children and families in Orange County to help children with health challenges reach their full potential.
"We were very thrilled to meet GreenLink Financial staff and management, in person. We are very thankful for their time and generosity. We look forward to our continuing to work together in 2018," said Elizabeth Baes, UCPOC's Director of Development.
GreenLink Financial made it a point to continue this partnership with UCPOC not just this Holiday but for as long as they can contribute to making the kids happier and live a better quality of life.
For more information email pr(at)greenlinkfunding(dot)com or call 844-202-2189.