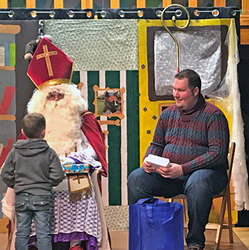 (PRWEB) December 22, 2017
Andrews Federal Credit Union recently sponsored a Christmas party for the Don Bosco Boys Home in Petite Hornu, Belgium. Don Bosco is a network of homes, supported by the Catholic Church, that exist to take care of orphans. This particular home is located close to Chievres Air Base and has been adopted by organizations and members of the U.S. Military who work with the home throughout the year.
Fifteen boys from Belgium and a few other countries, ranging in age from four to eighteen, live at the home. The boys are all very athletic, and like to put on plays and productions in their multi-purpose room. With that in mind, Andrews Federal donated gift cards to a local sports store for them to purchase sports equipment. To show their appreciation, the boys put on a play for those for those in attendance, followed by a pizza dinner.
"The boys were so excited to see Americans and share what they have with us," said Branch Manager Joshua Barrett. "It is a humbling experience to visit the Boys Home; to see how grateful they are for us to visit and see their faces light up when they receive their gifts."
About Andrews Federal Credit Union
Andrews Federal Credit Union was founded in 1948 to serve the needs of military and civilian personnel by providing a vast array of financial products and services. With over $1.5 billion in assets, Andrews Federal has grown to serve more than 120,000 members in the District of Columbia, Joint Base Andrews (MD), Springfield, Virginia (VA), Joint Base McGuire-Dix-Lakehurst (NJ), and military installations in central Germany, Belgium, and the Netherlands. In addition, the Credit Union serves as a financial partner with many select employee groups in Maryland, the District of Columbia, Virginia and New Jersey.
To learn more about Andrews Federal Credit Union and its community involvement, or to become a member, call 800.487.5500 or visit http://www.andrewsfcu.org.