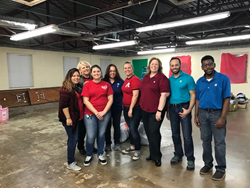 Dallas, TX (PRWEB) December 22, 2017
As part of an ongoing initiative to build leaders from within the organization, the Resource One Credit Union Leadership Training team (R1 C.U.L.T.) was given then initiative to help a local organization. The group selected to assist Genesis Women's Shelter during their annual Holiday program. Genesis Women's Shelter provides safety, shelter, and support for women who have experienced domestic violence, and to raise awareness regarding its cause, prevalence, and impact.
During the Holiday program, community members adopt families at Genesis Women's Shelter and provide gifts based on a wish list the families provide. The Resource One Credit Union Leadership Training team, along with fifteen fellow employees, volunteered at the Genesis Women's Shelter of Dallas during the Holiday program by inventorying, organizing, and wrapping donated items to families in need.
"The most valuable thing that you give someone is your time. I was humbled and thankful for the opportunity to help. I hope we can keep it going moving forward," says Leonard Harris, Real Estate Servicer at Resource One Credit Union.
About Resource One Credit Union
Resource One Credit Union was originally chartered as Sears Dallas Employees Federal Credit Union in 1936. Over time, the increased demand for more locations and additional products and services prompted the expansion of our product lines and field of membership. Today, Resource One proudly serves as a not-for-profit financial institution for the communities of Dallas and Northwest Harris counties. Resource One Credit Union has 11 convenient locations to serve our 60,000 and counting members. Visit Resource One Credit Union's homepage at http://www.r1cu.org.