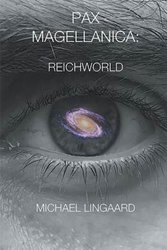 "Over 1,000 action-filled pages picture a future where the cost of war is inconceivable." - Robert Fletcher, CEO of Strategic Book Publishing and Rights Agency
(PRWEB) January 05, 2018
At the end of the 21st century, an exodus of Northern Europeans in a colony spaceship heads for Alpha Centauri. They never arrive.
The ship is trapped in a worm-hole for two years, until it emerges in the star fields of the Larger Magellanic Cloud, one of two small companion galaxies of the Milky Way. There's no way back to Earth for the colonists.
"Pax Magellanica: Reichworld" follows the powerful van Diemen family, who are voyagers of the colony ship looking for a new home.
Stars are plentiful in the galaxies, but humans are not. There are riches to be found in space, especially for the great trading houses, which includes the van Diemens. Over the centuries, these houses have competed for territory and wealth.
When two life forms are encountered – a benign entity as well as a voracious pack of frightening dog-like warriors – mankind is outnumbered and losing the fight for survival. The best human minds call for a new brotherhood, known as the reich, to defeat the enemy. Bio-ships are created, and special pilots are needed to run them, including Axel van Diemen, a man who has everything to lose.
"War breaks out across the universe between aliens and men in this powerful science fiction saga. Over 1,000 action-filled pages picture a future where the cost of war is inconceivable. We are thrilled to be the publisher," said Robert Fletcher, CEO of Strategic Book Publishing and Rights Agency.
About the Author: Now retired, Michael Lingaard was born in Manchester, England, moved with his family to New Zealand, studied engineering, and then ended up in Australia, where he married and raised a family.
PAX MAGELLANICA: REICHWORLD (ISBN: 978-1-946540-89-8) is now available for $43.99 and can be ordered through the publisher's website:
http://sbprabooks.com/MichaelLingaard or at Amazon.com or Barnesandnoble.com.
WHOLESALERS: This book is distributed by Ingram Books and other wholesale distributors. Contact your representative with the ISBN for purchase. Wholesale purchase for retailers, universities, libraries, and other organizations is also available through the publisher; please email bookorder(at)sbpra.net.