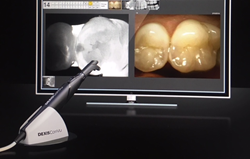 LOS ANGELES (PRWEB) December 22, 2017
Grand Dentistry in Escondido, CA is one of the first chosen to own and use CariVu, an innovative new approach to cavity detection in preventive dentistry, and Leslie Bonar, DDS, a STRONG advocate for minimally invasive dentistry, is one of the first to use it. CariVu, a new portable wand that bathes the tooth with a harmless infrared light to give a digital image that the patients can actually see for themselves, is quickly changing the game on treating patients with cavities.
"Our health-centered and preventive California dental practice acquires the latest and best technology only if it greatly benefits our patients," Bonar says. "We have very large TV screens on all of the operatory walls so that patients can see exactly what we see!"
CariVu is perfect for children, pregnant female patients, post-cancer radiation exams, and second opinion patients that just had a full set of x-rays and don't want more (the system even shows cracks in teeth where x-rays will not). "I want 100% predictability in treatment and the exactness of these almost-3D images gives me that," Bonar enthuses. "Minimally invasive treatment is what everyone wants in dentistry today, so our team at Grand Dentistry is passionate about detecting cavities and pathology BEFORE there is pain or a most costly option."
For more information on Leslie Bonar, DDS and Grand Dentistry, please go to http://granddentistry.com/dr-leslie-bonar/.
For more information on the DEXIS CariVu, please visit http://www.dexis.com/carivu.
Grand Dentistry is located at: 457 E. Grand Avenue #4, Escondido, CA 92025
To reach Grand Dentistry, please call: 1 (760) 747-7878