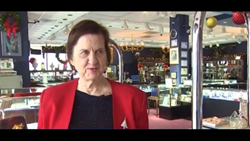 Some women panic, scream, yell, I don't do that...I get mad, and to me, that was the thing to do: give him a shove
HOUSTON (PRWEB) December 22, 2017
Early on the morning of December 19th, as employees of Houston Jewelry (HoustonJewelry.com) began to open the shop for business at 9521 Westheimer Road, Houston, Texas, 77063, they did not anticipate the holiday crime that would unfold. An assailant hid around the corner with a getaway driver wearing a dark suit, dark sunglasses and carrying a briefcase waiting for the doors to open. Two veteran employees, Judy Memmel (20 years) and Kathye Parker (5 years) were just arriving with another employee at 8:45am when the incident occurred.
The two grandmothers Judy, a grandmother of five, and Kathye, a grandmother of three, had just walked in and were about to lock the door behind them when the determined 6'2" robber tried to push his way in. Judy told him, "We're not open" but then quickly saw his firearm and said, "NO, you are not going to come in!" and forcibly pushed him out the door as he began to fire his pistol three times at close range. One bullet hit a jewelry display case, one went into the ceiling and the third nearly hit one of the employees, Jessie. "Some women panic, scream, yell, I don't do that...I get mad, and to me, that was the thing to do: give him a shove," she said. Kathye ducked for cover and went to strike the panic button in the store and alert officials. Knowing he didn't have a clear path to victory and was thrown off his game by Judy he stumbled backwards and towards the getaway car and its driver in a dark blue Impala and sped away.
After fighting off the attacker these two grandmas did not whimper home, instead they calmly went about their day. When one reporter asked Judy where she found the strength to fight off the attacker, she calmly replied with a graceful smile, "Well, I'm a ballroom dancer." None of it rattled her. She was back on the floor selling jewelry and says she wants what happened to her to be a warning for all women. "I think it just depends on the circumstances, you can't make a general rule, just keep your eyes open," she said.
Rex Solomon, owner of Houston Jewelry stated, "We are one of the oldest family run businesses in Texas and we couldn't be where we are without our employees. That being said, when it comes to confronting an armed criminal we value a human life more." More than 80 surveillance cameras cover the store from every angle as well as HPD officers that currently provide security. However, security measures have been tightened and enhanced since the incident. Houston Police ask that if you know the suspect pictured in the photo to please call 713.222.TIPS (8477).
More about Houston Jewelry
As Houston's premier fine jewelry store, they have been providing the Houston area with the finest quality diamond engagement rings, certified loose diamonds, diamond and gemstone designer jewelry, fine timepieces, and giftware since 1866. Every piece of jewelry they sell has been hand selected based on the latest trends, finest quality materials and expert craftsmanship. All of the loose diamonds they sell are GIA certified and laser inscribed as well as verified by their state of the art diamond grading equipment. They offer onsite jewelry and watch repair as well as Houston's top rated Gold Buying Service. Houston Jewelry is proud to showcase a permanent free exhibit of life size replicas of the Crown Jewels of England, British Orders and Decorations on display, a unique and special offering. Houston Jewelry also has a sister site dedicated solely to the business of weddings (https://www.1weddingband.com/). In 2008, the Texas Legislature and the Texas Historical Commission recognized Houston Jewelry's unique status as one of Texas's oldest businesses with the Texas Treasure Business Award.
Houston Jewelry
9521 Westheimer Road, Houston, Texas, 77063
(713) 784-1000
http://www.HoustonJewelry.com
Facebook, Twitter, Instagram, Pinterest: @HoustonJewelry
YouTube: https://www.youtube.com/houstonjewelry/